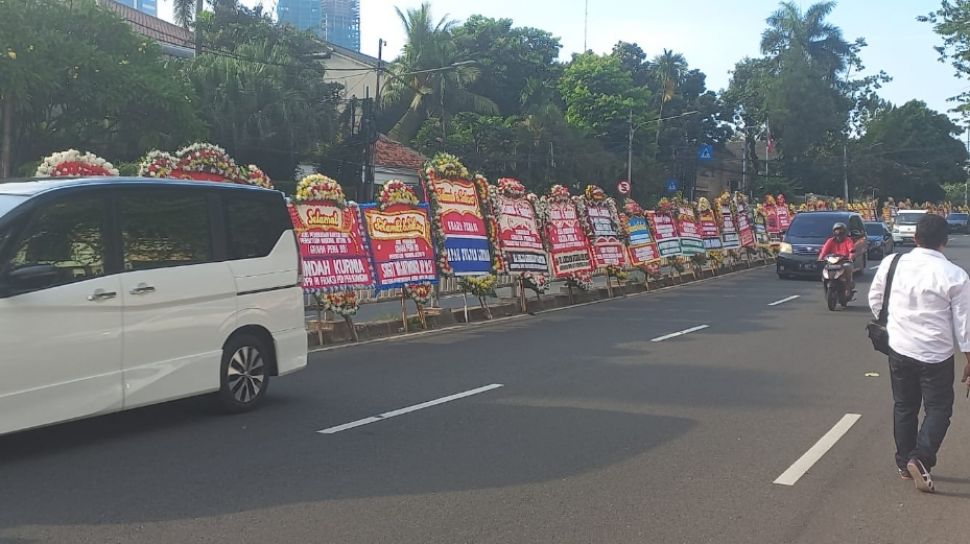 Suara.com – Jalan Hos Cokroaminoto was filled with thousands of wreaths, for the inauguration of the Graha National Association of Activists (Pena) 98, on Sunday (19/2/2023). The length of the wreath is claimed to reach 4 kilometers.
Monitoring by Suara.com at the location, the wreaths came from various ranks, including from President Joko Widodo, to the ministers of the Advanced Indonesia Cabinet.
Secretary General of the National Association of Activists (Pena) 98, Adian Napitupulu said the wreaths were intended for those who had the courage to fight in the reform era. Those who have bled against the new order.
"We don't think it's only for Pena 98, but we see it for brave people everywhere. Both I know and we don't know," said Adian, in the Menteng area, Central Jakarta, on Sunday (19/2/2023).
Also Read: FACT CHECK: Adian Napitupulu PDIP Successfully Embarrasses SBY on Live Television
For Adian, the reforms carried out in 1998 were a great struggle. Because when they fought against the Soeharto regime, not a few people were injured or died. There are even those who are missing to this day, as a result of being kidnapped.
"These flowers are a beautiful symbol of hope for Indonesia in the future, an Indonesia that is peaceful and respects each other in the midst of diversity and remains one in many differences," he said.
Previously, a number of reform activists who were members of Pena 98 inaugurated Graha Pena 98. Adian Napitupulu was lined up to become Secretary General of Pena 98.
The event was also attended by several figures, such as the Chairman of the Indonesian People's Consultative Assembly, Bambang Soesatyo, and Minister of State-Owned Enterprises (BUMN) Erick Thohir.
Pena 98 also proposed 8 criteria that were deemed appropriate for presidential candidates (Capres) who would run for the 2024 election.
Also Read: FACT CHECK: Three Political Parties Are Involved in Treason Efforts, Adian Napitupulu Was Specially Ordered by Jokowi, Really?
The following are the 8 criteria for a presidential candidate proposed by Pena 98:
Safeguarding Pancasila, guided by the 1945 Constitution, loyal to the Republic of Indonesia, respecting diversity, and caring for diversity; Not part of the New Order regime; Has no track record of being involved in the use of identity politics; Has never been involved in human rights violations; Never been involved in corruption cases; Continuing President Joko Widodo's Work Program; Committed to fighting for the reform agenda, resolving past gross human rights violations, maintaining environmental sustainability, and realizing agrarian reform; Committed to making efforts to strengthen a people's economy that is just and pro-people.