We tell you step by step all the options that you must select to get the most similar look to Draco Malfoy in Hogwarts Legacy.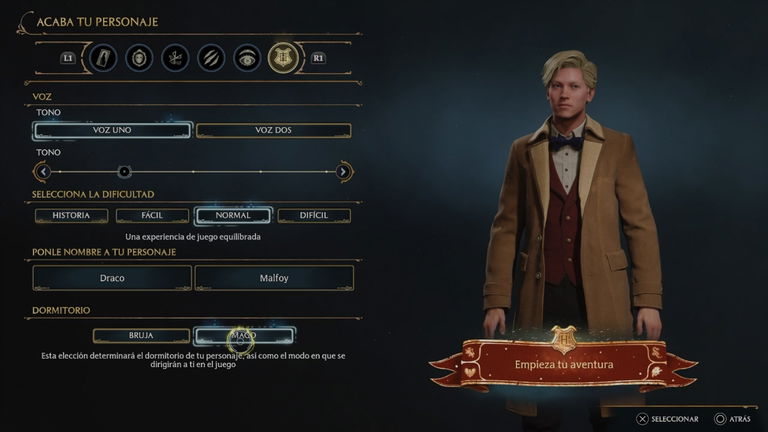 join the conversation
If you are one of the fervent slytherin followers and their students, surely Draco Malfoy will be one of your favorite characters of the Harry Potter universe, since it is the most representative of all those that can be seen on the walls of the School of Witchcraft and Wizardry in both the literary and film saga. In our Hogwarts Legacy guide we are telling you all the steps you must follow to be able to create some of the franchise's characters through the character editor and it was not going to be less with good Draco.
And it is that we have already told you how to create Harry Potter, how to create Hermione Granger and, of course, how to create Ron Weasley, so we could not miss our particular version of Draco Malfoy at Hogwarts Legacy. What you will see next is the closest look we've found for the Slytherin member quintessentially.
How to play with Draco Malfoy in Hogwarts Legacy
We are not going to be able to recreate Tom Felton and he is probably the most challenging character in these terms.since it has a very characteristic hairstyle that does not exist in the editor, but this is the closest version that we could find. Choose the complexion of the blond boy that you will see in the first optionyou have no loss and now select these parameters for Draco's face.
Now let's move on to the hair, one of the most distinctive and difficult elements to achieve on this occasion. We have opted for the most prim and snobbish thing we could find.
As to the complexion of the face, the possibility of having freckles and scarsit's really simple: everything to the left.
One of the last aspects that must be selected in relation to this very particular Draco is the color of the eyes (blue) and align the color of the eyebrows with your blonde characteristic.
Finally, select the voice that you like the most and name the characterso it would be like this:
And you already have a version that is very close to Draco Malfoy! Only one last detail is missing and that is choose the Slytherin house at the Sorting Ceremony to have everything ready.
join the conversation