Undoubtedly, pain and pricking in the chest are a very frequent ailment that can scare those who suffer from it.
If you've ever suffered from the calls pangs in the chest or have you had one feeling of pain in the heart in common situations, continue reading. These pains can scare us, because we might think that it is a possible heart attack or other alteration. Therefore, it is necessary to know the causes, what to do and when to prevent possible risks to our health with the care of a specialist doctor.
When in doubt, we consulted with two specialist doctors to learn more about the reasons for the issue and recommendations for leading a healthier life.
Why do we feel these pangs in our hearts?
According to physician John Zevallos, head of the Cardiology Service at the Daniel Alcides Carrion National Hospital, these pangs would not always be related to heart conditions, quite the contrary. "There are different reasons why a person can suffer this type of chest pain. Having made a sudden movement or having carried weight, in addition, suffering from stress and anxiety would be one of the causes of the intense stabbing sensation .
"Another reason why patients come to the office is for 'costochondritis' and it is an inflammation in the chest area, exactly in the chest wall, and we have to rule out that it is a heart problem," explained to The Republic. The possible causes are varied, therefore, it is extremely important go for a medical evaluation and do not overlook this type of discomfort.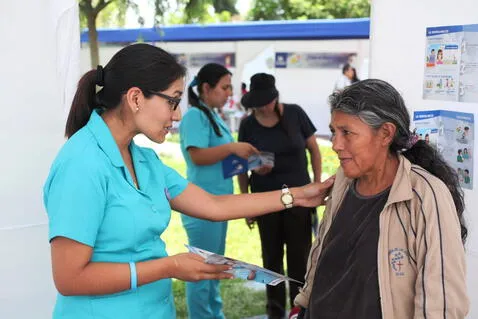 It is recommended to go for a medical evaluation to know the diagnosis. Photo: Andean
What to do against these pains?
For Dr. Lisseth Gómez, specialist in Family Medicine of the web portal Home Health, these pangs in the chest area do not occur especially in the heart area. "The causes are multiple, it would be due to cardiac, pulmonary, gastrointestinal or stress causes. The first thing to do is differentiate each of these ailments, since the symptoms are similar. We must rule out medical history and ask ourselves if There have been relatives with this type of pathology," said the specialist.
How to take care of ourselves in the face of these health problems?
Eating a healthy diet. Exercising regularly. Eliminating tobacco from our daily routine. Keeping blood pressure stable. Carrying out an annual medical evaluation.
Both specialists indicate that if we still do not know the cause of the pain in this area, the first thing we should do is stay calm, drink a glass of cold water and calm down. Therefore, the only way to know the reason is to see a cardiologist or internist, perform tests and go for a frequent check-up.