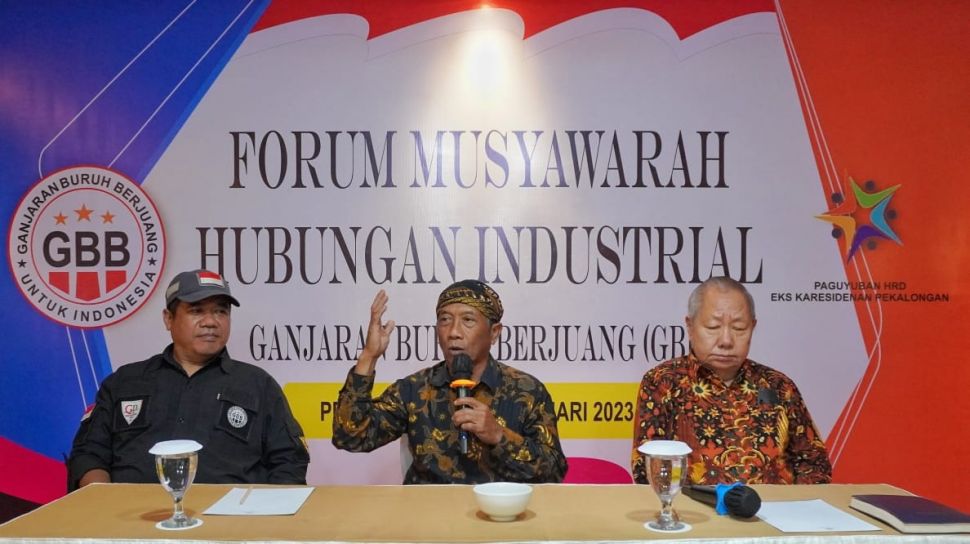 Suara.com – Workers' Fighting Rewards (GBB) hooked up with the management and HRD of companies and workers' unions in the Industrial Relations Deliberation Forum in the Ballroom of The Sidji Hotel, Kel. Poncol, Kec. East Pekalongan, Pekalongan City, Central Java.
In the deliberation forum, the parties share aspirations, ideas, and harmonize them to mutually strengthen industrial relations in the future.
"Of course the forum was already underway and there were important notes. Good inspiration and ideas from both parties for how the concept of industrial relations can be applied in Indonesia even better," explained the Chairman of GBB, Lukman Hakim.
The event was intended to find a way out of all problems or conflicts that occurred as a result of differences in ideas between the elements of industrial relations, namely employers, companies, workers or laborers, and trade unions.
Also Read: Accuses the Police of Politicizing the Azan to Disband the Labor Mass in the DPR, Said Iqbal: This is an Unlawful Law!
According to him, the labor situation or industrial relations has been stagnant, for example, the issue of wages often colors conflicts between the two of them every year towards the end.
"So, with this forum, hopefully we can reduce conflicts, reduce unnecessary things so that from year to year we can carry out the industry well. Because this industrial relations forum is intended to seek ideas for strengthening national industry and workers' welfare. ," said Lukeman.
After conducting the forum, GBB also initiated a training entitled "K3 management awareness training" and provided certificates to workers at the Istana Hotel, Kramatsari, Kec. West Pekalongan, Pekalongan City.
Several trade unions and employers who attended this occasion included SPN (National Workers' Union), KSPN (Confederation of Archipelagic Trade Unions), SPSI (All Indonesian Workers' Union) and the Indonesian Employers' Association (Apindo) Central Java.
At the same moment, they also discussed legislation (Perppu) number 2 of 2022 concerning work creation (ciptaker).
Also Read: Viral on Tiktok, it turns out that cases of workers not being paid for overtime are in Grobogan
The chairman of Apindo Central Java, Frans Kongi, said that there are two main problems faced by entrepreneurs in Indonesia. First, bureaucratism and overlapping legislation. Second, there is a provision for severance pay regulated in UUK number 13 of 2003.
"In our opinion, the Perppu on Job Creation from the business world is very good, very industry-friendly. It can answer these problems, thus creating an atmosphere that is conducive to investment," explained Frans.
He welcomed the GBB's idea of ​​an Industrial Relations Consultative Forum to bridge the interests of workers and employers so that it can be mutually beneficial or a win-win solution. He hopes that the forum can be implemented at the central and local levels.
General Chairperson of SPN Djoko Heriyanto said that the Job Creation Perppu had provided guarantees regarding workers' rights, such as minimum wages, overtime and severance pay.
It's just that, according to him, what is needed is certainty about the fulfillment of these rights so that they can really be realized.
"The problem is indeed a matter of certainty, if the amount is relative, severance pay, wages, social security (social security) are relative because it follows standard economic values. But if certainty is a guarantee where what the law says guarantees this has not answered," said Djoko.