SuaraSoreang.id – Fuji and Thoriq's love affair officially broke up. They confirmed this news through their respective Instagram media accounts, on Friday (17/2/2023).
In the Fuji @fuji_an upload, previously, the girl whose full name is Fujianti Utami uploaded a portrait of herself and Thoriq at their first anniversary dinner.
"Take care," Fuji wrote in the photo caption spiced up with a white heart symbol.
At the same time, Tariq Halilintar or who is familiarly called Thoriq also uploaded a photo of himself and the younger brother of the late. Aunt Ardiasyah was at a catfish pecel stall.
Also Read: Ferrari Has Not Joined the U-20 Indonesian National Team, Shin Tae-yong Attacks Persija Again
"Always," said Thoriq in the caption of the photo with a red heart symbol, as if answering Fuji's post and raising a question mark for many people.
Furthermore, the couple who are often called Thofu by fans again uploaded InstaStories on their respective accounts at not much different times.
But this time, their upload was like a lightning strike for the fans, because both of them bluntly stated that their relationship had foundered.
As in the long writing from Atta Halilintar's sister who stated that they had indeed officially broken up, but the two were still good friends.
Therefore, he asked all Thofu fans not to corner any party. And it turns out they broke up right on Thoriq's birthday a few days ago.
Also Read: 90,000 people overcrowd Camp Nou, Europa League spectator record broken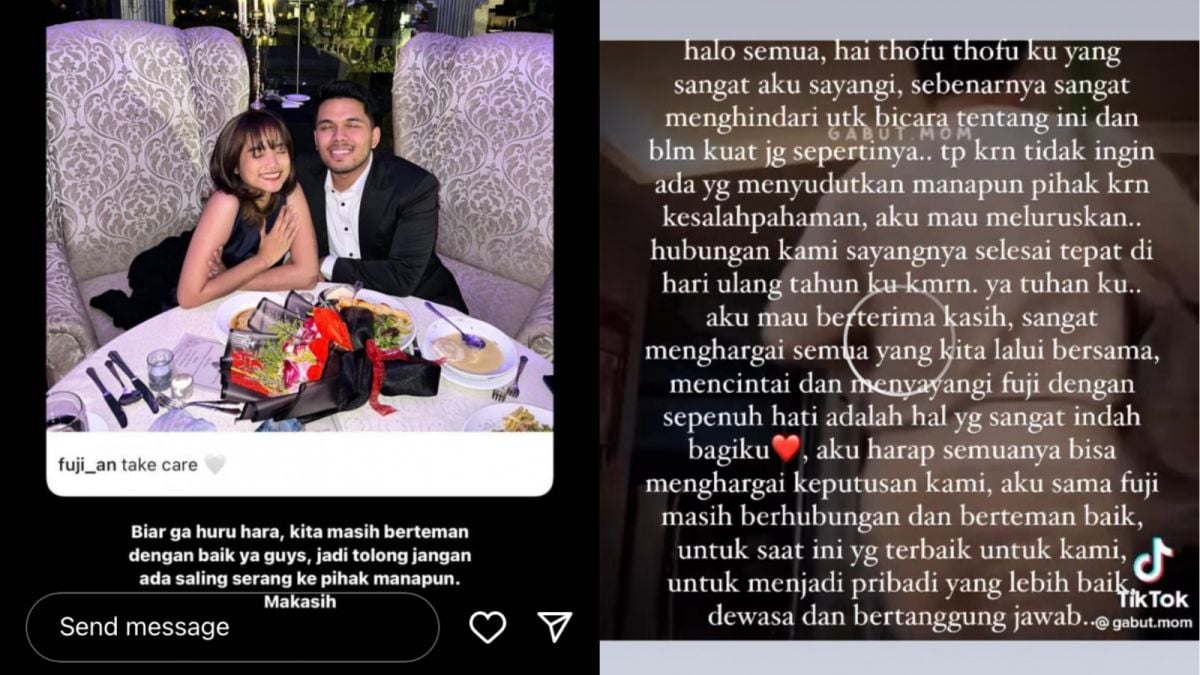 Fuji and Thoriq confirmed that their relationship had officially ended. (source: Instagram @fuji_an & @thariqhalilintar)
"I want to straighten it out… our relationship unfortunately ended right on my birthday yesterday, oh my god…" Thoriq said.
In line with that, the girl who is often called Uti seemed to agree with her ex's long sentence and said that they were still good friends.
"Let there be no riots, we are still good friends, guys, so please don't attack each other on any side. Thank you," wrote Aunt Gala Sky.
Source: Instagram @fuji_an & @thariqhalilintar
Loading…