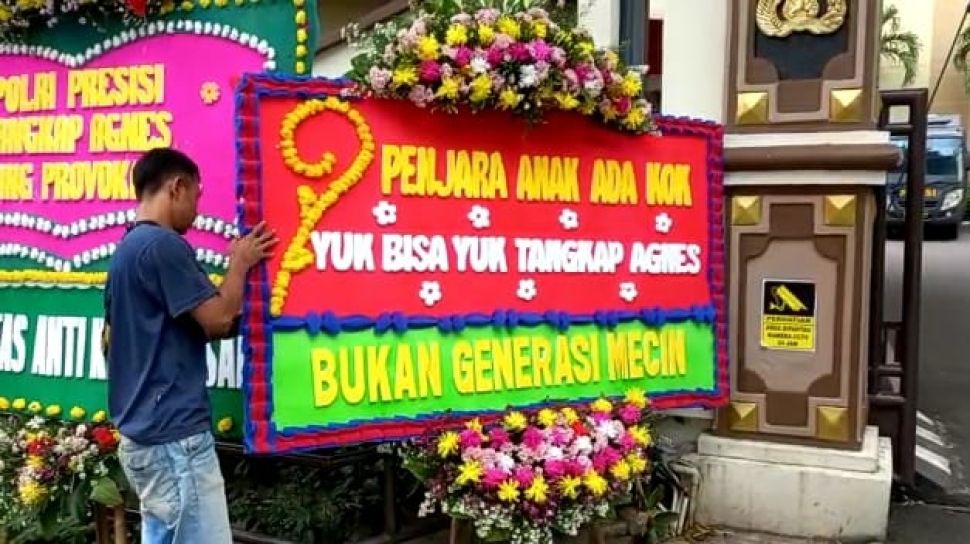 Suara.com – A total of 26 wreaths related to the persecution case involving the son of an official from the Directorate General of Taxes (DJP) of the Ministry of Finance with the initials MDS (20) or Mario Dandy Satriyo filled the motorbike parking lot behind the South Jakarta Metro Police, Monday (27/2/2023).
"Agnes, don't plagiarize Putri Candrawathi's methods, please play victim," said one of the flower bouquets from the Princess Kasihan Supporters' Front (Baperan).
A number of the wreaths were intended to support the victim David (17) who is currently undergoing intensive care at Mayapada Hospital, Kuningan.
Previously, it was known that the wreath had been installed at the front gate of the South Jakarta Metro Police on Saturday (25/2).
Also Read: One Pride MMA Athletes Fight in Line Against Fighting Mario Dandy and Shane Lukas, Duh Become a Life Punch
Now, the colorful flower bouquets have been stacked and divided into three which are lined up in the motorbike parking lot.
A number of residents were seen taking pictures beside the Rubicon car which was opposite the wreath.
"Mr. Kapolda also arrested the instigator who persecuted David, from the Master of All Sciences," read one of the wreaths.
The South Jakarta Metro Police previously named two suspects in the persecution of D, namely the son of a DGT official with the initials MDS and his friend, initials S.
MDS and S were named suspects after knowingly committing the assault on Monday (20/2) evening and the video of the abuse went viral on social media.
Also Read: FACT CHECK: Is it true that Mario Dandy Satriyo's father was examined by the Corruption Eradication Committee and was at risk of impoverishment?
The police have also carried out a urine test on the two of them which came back negative for drugs.
Investigators also examined other witnesses, namely an underage woman with the initials A who was D's ex-girlfriend and is now known to be MDS' lover.
For his actions, suspect S was charged with Article 76C Juncto Article 80 of Law Number 35 of 2014 concerning Amendments to Law 23 of 2002 concerning Child Protection. The offender is subject to imprisonment for a maximum of 5 (five) years.
The police have asked for further information from a number of witnesses, namely R, M, AGH, and the victim's uncle. (Source: Antara)