Suara.com – PT ExxonMobil Lubricants Indonesia (PT EMLI) through the Federal Oil motor lubricant brand hopes that the national-scale Sobek Prize (Sober) program can have a positive impact on consumers who use Federal Oil products.
Rommy Averdy Saat as the Federal Oil Brand General Manager of PT EMLI said that the enthusiasm and participation of consumers had been quite high since the beginning of this program.
Federal Oil hopes that this program is not only a form of appreciation to consumers, but can also have a positive impact on the workshops that sell Federal Oil products.
"This program is expected to be able to help increase sales for workshops that sell Federal Oil products," said Rommy Averdy, in his statement, Saturday (18/2/2023).
Also Read: Yamaha Fazzio Hybrid – Connected Appears in New Colors, from Graphic Touches to Characters in Harmony with Natural Nuances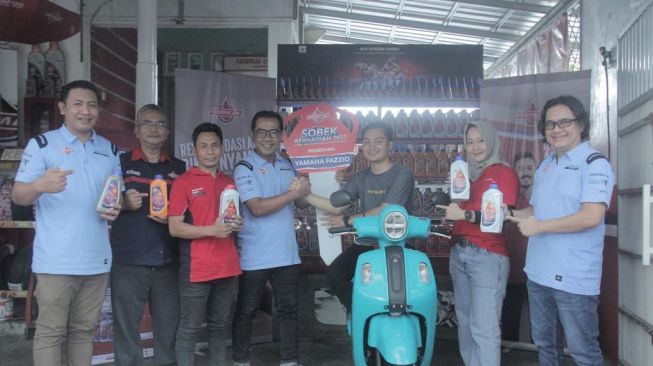 Winner of Federal Oil's Sober program. (Federal Oil)
This time, a Federal Oil customer from Lombok, namely Indra Bayu, was lucky to bring home a prize of 1 unit of Yamaha Fazzio.
Indra is a security officer at a private company in Lombok, and he received an automatic motorbike prize after changing his motorcycle lubricant at the Federal Oil Center, Cahaya Motor.
"Congratulations to the winners, I hope the prizes received will be useful, and become education to maintain and maintain motorbikes regularly according to expert recommendations," concluded Rommy.
Federal Oil products with the Ripped Prize program, and are certain to be genuine, can be purchased at the nearest Federal Oil Center, or the official store in the marketplace.
Also Read: Semarang City Youth Attend Fun Touring and Watch Music Concerts with Yamaha Fazzio Hybrid – Connected