Suara.com – PSSI Chairman Erick Thohir responded to criticism about the poor performance of soccer referees in Indonesia. According to him, it is inappropriate if all the blame is delegated to the referee.
Erick Thohir said that the welfare of referees should be improved, especially at the level of League 2 and below. Their income is not enough to meet their daily needs, especially since the competition is currently not running.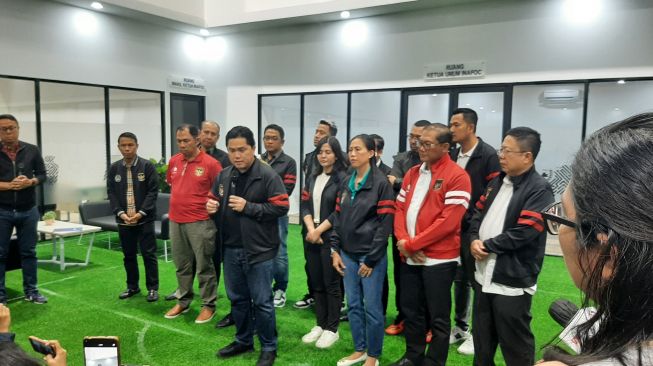 PSSI Chairman Erick Thohir when giving a statement to the media crew after the Exco meeting, Saturday (18/2/2023). (Suara.com/Adie Prasetyo Nugraha).
The former Inter Milan president had the opportunity to visit the residence of one of the League 2 referees. He said the referee was selling beancurd, while from the game he received IDR 5.5 million.
"I met a League 2 referee whose name was Rohadi, what kind of small house do you trade? Do you know. If we want to talk about improving the national refereeing system, let's pay attention to the referee first, this is the key pulse, they referee League 2 blow one time (match) IDR 5.5 million ," said Erick Thohir at the GBK Arena, Jakarta, Saturday (18/2/2023).
Also Read: Persib Striker Claims 100% Ready to Face RANS Nusantara FC, Will David Da Silva Score a Goal?
"What does that mean? At least they have to be able to breathe 12-15 times per season, not 5-7 times, we will fix this, not to mention the Menpora (Zainudin Amali) said let's provide insurance, we will give insurance later, but it will come back, if the league doesn't work," he explained.
Therefore, Erick asked all parties to support one another so that the competition could run. Especially the fans so they can help PSSI advance football.
"He also sells bean curd, he earns 200 thousand per month, his wife works as an early childhood teacher for extras, the salary is Rp. 900 thousand per year, let's give empathy, don't always blame referees, referees and referees," he explained.
"But we are not there behind them to protect them, when they are on the field, they can fall, what does that mean? Yes, technology, but technology without humans is just a lie, that's why we will push for the improvement of refereeing, the match system, then we will calculate – VAR count," he concluded.
Erick Thohir was elected as general chairman of PSSI for the 2023-2027 period at the Extraordinary Congress (KLB), Thursday (17/3/2023). Zainudin Amali and Ratu Tisha Destria were elected as representatives.
Also Read: PSIS Supporters Riot, PSSI Chairman Erick Thohir: We Enforce the Rules