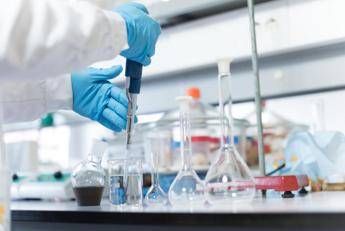 The Committee for Medicinal Products for Human Use (CHMP) of the European Medicines Agency EMA has recommended the marketing authorization of ivosidenib tablets – an inhibitor of the mutated isocitrate dehydrogenase 1 (Idh1) enzyme – for two indications: in combination with azacitidine for the treatment of patients with newly diagnosed Idh1 mutant acute myeloid leukemia (AML) who are ineligible for standard induction chemotherapy; as monotherapy for the treatment of adult patients with previously treated locally advanced or metastatic mutant cholangiocarcinoma (Cca) Idh1. This was announced by Servier, the manufacturer of the therapy, explaining that the positive opinion of the CHMP is based on clinical data from the Agile (Lma) and ClarIDHy (Cca) studies.
"This is an important milestone for the treatment of patients with acute myeloid leukemia – says Hartmut Döhner, medical director of the Department of Internal Medicine at the University Hospital of Ulm, Germany – Approximately 8% of cases of this type of tumor the Idh1 mutation is present and for these patients this effective target therapy represents an important treatment option, with strong evidence of improvement in overall survival and, equally important, also in quality of life".
"This is great news for patients with advanced intrahepatic cholangiocarcinoma, a cancer with a very poor prognosis and limited treatment options," adds John Bridgewater, professor and consultant in medical oncology, University College Hospital, London. presenting an Idh1 mutation, this target therapy will offer a valid, targeted and effective therapeutic option. A new personalized therapy available to oncology to improve the treatment of patients affected by this rare tumor".
LMA – Servier recalls in a note – is a cancer of the blood and bone marrow characterized by rapid progression. It is the most common acute leukemia in adults and affects 5 out of 100,000 inhabitants in Europe, with over 20,000 new cases each year. The 5-year survival rate for people over 60 is 20%. Cholangiocarcinoma, cancer of the bile ducts, is a rare and aggressive tumor, often related to medical history such as cirrhosis or liver infections. It affects 1-3 out of 100 thousand inhabitants in Europe, with about 10 thousand new cases every year. The 5-year survival rate is 9%, but it is nil in the metastatic stages. Only surgery can cure patients, but treatment is possible for a limited number of sufferers and the risk of recurrence remains high. Chemotherapy and immunotherapy are the standard therapies for patients with Cca who cannot undergo surgery or whose disease has progressed after surgery.
"The positive opinion of the CHMP – declares Claude Bertrand, Executive Vice President R&D of Servier – is a further step towards the availability in the European Union of ivosidenib, the first Idh1 inhibitor whose approval in Europe has been recommended for patients with AML and CCA for whom treatment options are very limited.Ivosidenib is the product of Servier's profound transformation and commitment to oncology, which has embarked on a promising path for patients, focusing its research on hard-to-treat cancers treat and on the development of targeted therapies".
In the United States, ivosidenib is approved by the FDA in combination with azacitidine or as monotherapy for the treatment of newly diagnosed Idh1-mutated acute myeloid leukemia in adults 75 years of age and older or who have comorbidities that preclude the use of a chemotherapy of intensive induction, and as monotherapy for the treatment of adults with relapsed or refractory Idh 1-mutated AML. The drug is also approved in the US for patients with previously treated locally advanced or metastatic Idh1-mutated cholangiocarcinoma. Ivosidenib in China can be used in adult patients with relapsed or refractory AML who have an Idh1 mutation. The CHMP's positive opinion for ivosidenib in patients with AML and Cca with the Idh1 mutation will be submitted to the European Commission which will issue a final decision within approximately two months. The decision will apply to all 27 EU member states plus Iceland, Norway, Northern Ireland and Liechtenstein.