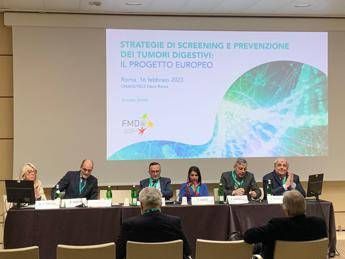 Gastrointestinal tumors (NGI) are the leading cause of cancer death in Europe and one of the leading causes of mortality in all countries of the world. They affect men and women equally, and although the prognosis for these patients has improved in recent years, thousands of people still die from these malignancies every year in Europe. The Old Continent currently accounts for a quarter of global cancer cases, with rates set to increase by over 24% by 2035. This is what emerged at the conference 'Digestive cancer screening and prevention strategies: the European project' , promoted in Rome by the Foundation for digestive diseases (Fmd) to illustrate the European recommendations and the useful actions to be implemented in Italy so that a healthier lifestyle is promoted and prevention programs are encouraged. First of all, screening, essential to reduce the burden of these pathologies through the detection of pre-neoplastic or neoplastic lesions at an early and curable stage, providing recommendations that help make informed decisions.
Regarding the social burden of digestive cancers – which include cancers of the oesophagus, stomach, pancreas, liver, small intestine or colon – the numbers speak for themselves: around a quarter of all cancer cases worldwide are diagnosed and treated in Europe. In our continent – it emerged from the meeting – tumors of the digestive system represent the main cause of mortality: in fact, there are around 350,000 deaths a year from tumors of the colon, rectum, stomach, liver and pancreas. In Italy, the epidemiological picture described does not differ significantly: colorectal cancer is the second cause of cancer in women; hepatocellular carcinoma kills 80 thousand people every year, more than 80% of pancreatic tumors are incurable. And although an increase in the incidence of gastric cancer is expected over the next 20 years, there are indications that a reduction in mortality is possible. For example, if 90% of gastric cancer cases are related to Helicobacter pylori infection, scientific evidence suggests the possibility of a reduction in gastric cancer mortality by eradicating H. pylori, notes the FMD.
Furthermore, participation in mass screening procedures is still not satisfactory. It is to be believed – according to the experts – that high-risk subjects should be screened, to be calculated on the basis of environmental, genetic, personal and clinical parameters. In Europe, in fact, most cases of hepatocellular carcinoma are diagnosed in an advanced stage, but it is necessary to intervene sooner. In some countries, such as Japan, screening programs have resulted in highly significant increases in 5-year survival. Furthermore, given the close relationship between chronic liver disease and hepatocellular carcinoma, screening campaigns on targeted populations should be implemented for FMD. Finally, for pancreatic cancer, since no screening strategy is currently conceivable, an improvement could be achieved thanks to more effective surveillance of subjects at risk and the search for more reliable biomarkers.
This is why – the FMD recommends – it will be necessary to produce well-designed screening programs for H. pylori on a rational basis and to promote the search for biomarkers for the identification of subjects at greater risk. But also expand mass screening policies for colorectal cancer and promote research to evaluate different screening methodologies and algorithms that allow individual risk assessment. It will also be necessary to implement screening programs on high-risk liver disease patient populations and to refine screening procedures for liver cirrhosis, helping to improve the early diagnosis of liver cancer. Finally, the FMD recommends promoting research to identify pancreatic cancer biomarker screenings that are highly accurate and cost-effective.
The Digestive Diseases Foundation launches an appeal to the institutions, deeming it essential that all the stakeholders involved in the prevention and management of pathologies in the Italian gastroenterological field face the screening project with determination both as regards existing ones and to expand the possibilities of early diagnosis , focusing attention on the population most at risk and guaranteeing access to such screenings in the essential levels of assistance (Lea).
A final recommendation that comes from the Fmd is on lifestyles: inappropriate habits, such as a diet rich in processed foods, smoking and alcohol consumption and diseases related to incorrect styles, such as obesity, or some chronic infections such as hepatitis B and C are related to the development of Ngi. Promoting the adoption of healthy lifestyle choices is therefore essential to reduce the individual risk of developing gastrointestinal cancer. This – concludes the Federation – can be achieved through the introduction of policies to limit the consumption of fast food, the intake of processed and ultra-processed foods and cigarette smoking.