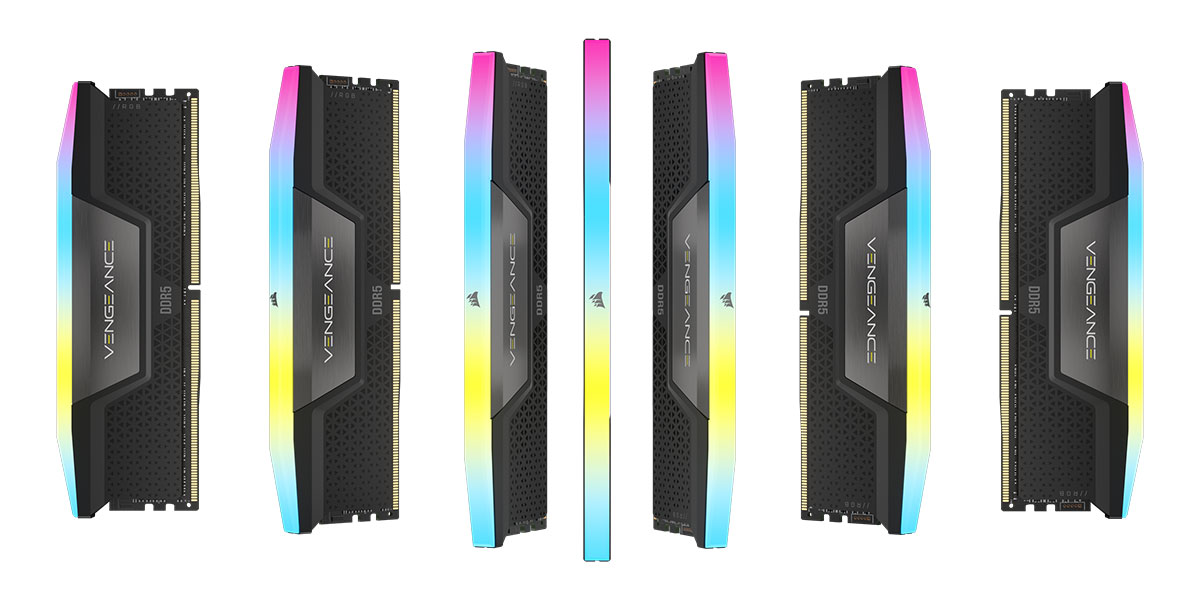 Corsair, the industry leader in the most advanced components for gamers, content creators and PC builders, today introduced its latest DDR5 memory kits with exceptional capacities, using new 24GB and 48GB UDIMMs. For the first time, enthusiasts and power users will finally be able to choose 192GB (4x 48GB), 96GB (2x 48GB), or 48GB (2x 24GB) CORSAIR memory kits. The kits, available for the models VENGEANCE RGB DDR5 e VENGEANCE DDR5, boast ideal memory capacities for more ambitious applications that demand high performance, such as 8K video editing software or AI workloads or deep learning. The kits are also designed for use with motherboards that have only two memory slots, including Micro ATX and Mini-ITX versions, where space is at a premium but large capacities are required.
CORSAIR VENGEANCE RGB DDR5 and VENGEANCE DDR5 memory, which are already the ideal choice for users who want the maximum performance from their hardware, are optimized for the latest gaming PCs and workstations and, thanks to the new memory capacities, offer users demanding users the option to build their own system with memory configurations that weren't possible until now. The 96GB and 48GB kits are available immediately in both RGB and non-RGB models, with speeds of 5,600MT/s and 5,200MT/s and support for overclocking via Intel XMP 3.0 protocol, ensuring optimal execution speeds.
The VENGEANCE RGB DDR5 and VENGEANCE DDR5 192GB (4x 48GB) 5200MT/s speed kits will be available in early March 2023, setting a new standard for high-capacity DDR5. In fact, these four-DIMM kits are compatible with 13th generation Intel systems and support overclocking via Intel XMP 3.0 profiles, allowing you to get the most out of every single module.
Continuing CORSAIR's long-standing tradition of producing DRAM of superior quality and reliability, VENGEANCE RGB DDR5 and VENGEANCE DDR5 modules feature memory chips carefully selected to ensure consistent high-frequency performance, as well as a high-performance PCB capable of delivering a stable signal of excellent quality. The Limited Lifetime Warranty gives you the peace of mind knowing that each new memory will last the life of your machine, and beyond.
DDR5 memories ensure that even the latest high-end CPUs receive data as quickly as possible, optimizing system performance and thus exploiting the maximum processing power available to the entire configuration. These new kits therefore provide revolutionary memory capabilities that overcome the current performance limitations of small form factor memory.
To continue reading other articles, you can click Who!