Suara.com – Arif Rahman Arifin, former Wakaden B of the Paminal Bureau who is now the defendant in the obstruction of justice case in the death of Brigadier Nofriansyah Yosua Hutabarat or Brigadier J, admitted that at first he did not feel uncomfortable with the story told by former Head of Propam Ferdy Sambo about the harassment of his wife Putri Candrawahti.
This was conveyed by Arif when he read out the defense plea or memorandum of defense at the obstruction of justice trial in the death of Brigadier J at the South Jakarta District Court, Friday (3/2/2023).
Arif said, Sambo and Putri cried when they talked about the incident of sexual harassment. This spontaneously made Arif at that time also feel empathetic.
"The story that the leadership told me at that time, especially with what I saw from Father FS and Mother PC crying sadly, to be honest, what made me feel was such a great sense of empathy from within me for him," said Arif.
Also Read: FACT CHECK: Mahfud MD Successfully Reveals and Captures 2 Sambo Backing Generals, Really?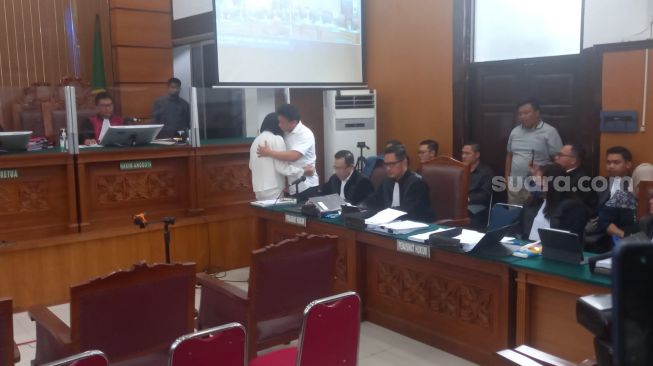 Ferdy Sambo and Putri Candrawathi returned to show their intimacy, namely hugging each other and kissing their foreheads in court. (Suara.com/Arga)
However, this feeling of empathy actually led Arif to obey Sambo's orders. At first, he didn't feel anything odd about the story Sambo was telling.
"I was conditioned by a sense of empathy so that there were no strange thoughts at that time, especially from the expressions on the faces of Mr FS and Mrs PC who were very sad and devastated by what happened to Ms (Putri)," explained Arif.
Later he found out, it turned out that Sambo had lied about the story. Sambo made up the story to smooth out the scenario of Joshua's murder.
In addition, Arif took part in watching the recording of Yosua still alive when Sambo arrived at his official residence at the Duren Tiga Police Complex, South Jakarta.
Arif was charged with 1 year in jail
Also Read: Relations of Power and Chain of Command in the National Police Arif Rahman brought up at the Pleidoi Session: It's Difficult to Refuse a Superior's Order!
In the previous trial, Arif Rahman Arifin was charged with one year in prison in connection with the obstruction of justice (OOJ) case of the murder of Brigadier J or Nofriansyah Yosua Hutabarat.
During the trial the public prosecutor (JPU) believed that Arif as the defendant had violated Article 49 Juncto Article 33 Law Number 19 of 2016 concerning Amendments to Law Number 11 of 2008 concerning Information and Electronic Transactions (UU ITE) Juncto Article 55 Paragraph 1 1st Criminal Code.
In addition to being demanded 1 year in prison, the prosecutor also demanded a fine of Rp. 10 million for the former employee of Ferdy Sambo.