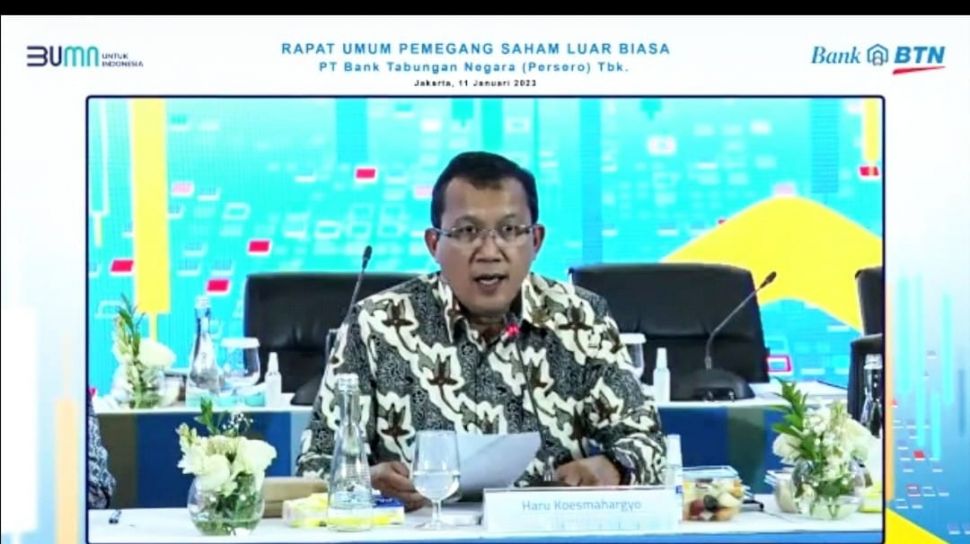 Suara.com – Closing 2022, PT Bank Tabungan Negara (Persero) Tbk. recorded a positive net profit of IDR 3.04 trillion as of December 31, 2022. This gain was contributed by the Government's great support in encouraging the provision of livable and affordable public housing in Indonesia.
Main Director of Bank BTN Haru Koesmahargyo said the government's big role in supporting public housing and maintaining a stable national economy has become a driving force for the company's business. Government support in the form of State Capital Participation (PMN) and increased allocation of funds for subsidized housing, added Haru, is also clear evidence of Government support for people's housing.
"We continue to strive to continue to provide the best results amid this conducive economic situation. The goal is so that we can continue to support the Government in providing affordable and livable access to finance for the people of Indonesia," Haru explained at the Performance Press Conference as of 31 December 2022 in Jakarta.
The financial report of the issuer codenamed BBTN shows that Bank BTN's net profit as of December 31 2022 was Rp. 3.04 trillion, up 28.15% on an annual basis (year-on-year/yoy) from Rp. 2.37 trillion in the same period in 2021 This increase was also supported by solid credit growth, improvements in business processes and credit quality, as well as an increase in deposits.
Also Read: Residents of Perum Griya Ciwangi Purwakarta Complain about Home Certificates Not Being Obtained, Even though They Have…
This achievement, continued Haru, was also inseparable from the concoction of Bank BTN's management strategy to sail in the midst of a pandemic. Haru detailed, Bank BTN has relocated offices since 2020 to potential areas. In addition, the company is innovating by launching innovative products to answer market needs such as BTN Rent to Own KPR and BTN Gaess KPR. Then, said Haru, Bank BTN also maximized the line of digital housing ecosystems with various easy-to-use applications.
Loans and financing that grew solidly became the backbone of Bank BTN's net profit. The company's financial report noted that credit and financing grew by 8.53% yoy from IDR 274.83 trillion to IDR 298.28 trillion as of 31 December 2022.
Home ownership loans (KPR) are still the biggest motor for Bank BTN's business movements. In total, KPR at Bank BTN grew 9.23% yoy to IDR 233.68 trillion as of 31 December 2022. In this segment, subsidized KPR grew 11.61% yoy to IDR 145.86 trillion at the end of 2022. With this performance, Bank BTN recorded to still lead the subsidized mortgage market with a share of 83%.
In addition to credit acceleration, Bank BTN also managed to increase Third Party Funds (DPK) by 8.77% yoy from IDR 295.97 trillion to IDR 321.93 trillion as of 31 December 2022. The increase in TPF was driven by an increase in low-cost funds (current account savings). account/CASA) of the company by 19.13% yoy to IDR 156.2 trillion at the end of December 2022. With this increase, the company's cost of funds (CoF) fell 53 basis points (bps) yoy from 3.13% at the end of 2021 to 2.60%.
The decrease in the cost of funds also helped to reduce interest expense by 14.94% yoy at the end of last year. With the positive performance of loans and DPK, the bank's assets which focus on financing people's homes also increased by 8.14% yoy from IDR 371.86 trillion to IDR 402.14 trillion as of 31 December 2022.
Also Read: BTN EGMS Approves Heru Budi Hartono's Resignation
"This business growth is also matched by strengthening capital, improving quality and increasing reserves, so that Bank BTN's business is expected to continue to grow sustainably," said Haru.
Meanwhile, with additional capital from the Government, Bank BTN's tier 1 capital adequacy ratio (CAR) reached 16.13%, an increase of 233 bps as of December 31, 2022. Then, business process improvements have also reduced the ratio of non-performing loans (non-performing loans). Bank BTN's gross performing loan/NPL) was 32 bps yoy to 3.38%. Bank BTN's coverage ratio also continued to increase by 1,383 bps yoy to 155.65% as of December 31, 2022.
As of 31 December 2022, Bank BTN's loan to deposit ratio (LDR) also remained stable at the level of 92.65%. In addition, the liquidity coverage ratio (LCR) is at a healthy level of 238.50%.
Sharia Business Streams
Meanwhile, Bank BTN's Sharia Business Unit (UUS) business also shot up to the end of 2022. The BTN Syariah net profit was recorded to have increased 80.12% yoy to IDR 333.58 billion as of December 31, 2022 from IDR 185.20 billion.
The increase in UUS Bank BTN's net profit was supported by an increase in sharia financing and an improvement in the quality of financing.
Sharia financing was recorded to grow by 14.79% yoy to IDR 33.62 trillion and gross non-performing financing (NPF) fell 101 bps yoy to 3.31% as of 31 December 2022. DPK BTN Syariah also rose to the level of 18.38%. yoy to IDR 34.64 trillion at the end of 2022. With this increase, BTN Syariah assets rose 18.18% yoy to IDR 45.33 trillion as of 31 December 2022.