For the 2023 racing version of the Evo there are both mechanical and chassis modifications for more explosive performance and even better handling
February 10, 2023
Beta unveils the new flagship model of the trial range, the Evo Factory which, as the name suggests, represents the more racing evolution of the models introduced last August and is arriving in the sales network these days. Beta technicians worked both on the chassis and on the mechanics of the Evo model to reach the maximum potential of the Tuscan trial bikes dedicated to competitions. Let's take a look at these interventions in detail.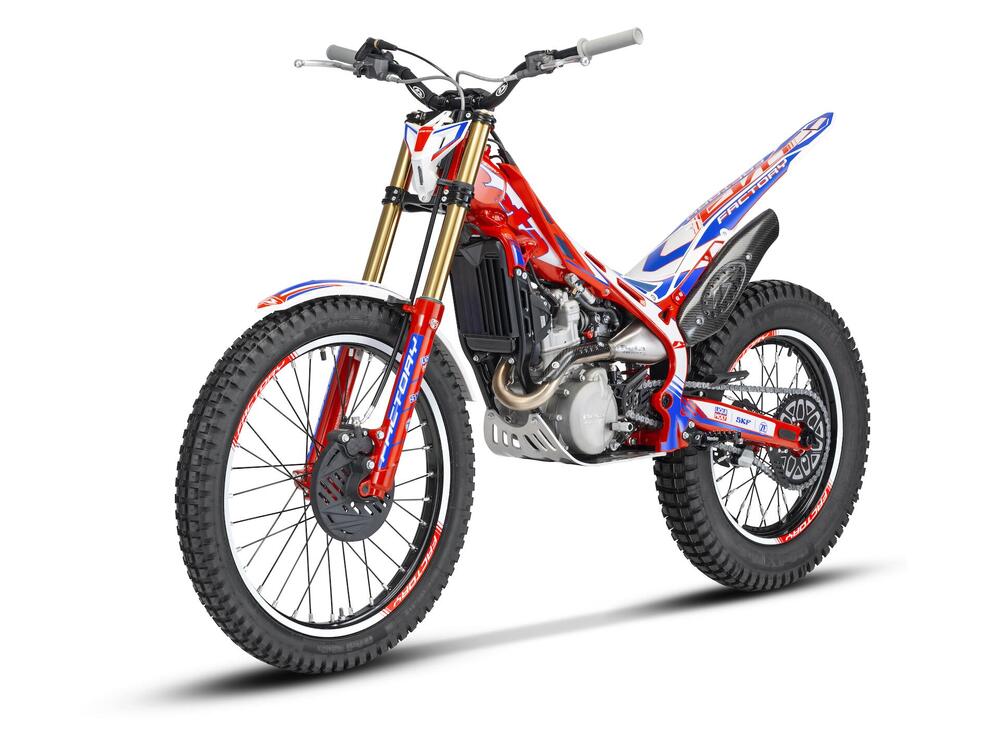 Beta Evo Factory 2 stroke

All displacements of the 2-stroke models except the 125 receive the new crankshaft with short center distance connecting rod (1.5 mm less going from 116 to 114.5 mm) already introduced for the EVO My23. Bore and stroke have remained unchanged, but for the Factory the cylinder and the combustion chamber have been modified in relation to the increase in the compression ratio. Then we find new ones black magnesium crankcase which, in addition to reducing weight, have different internal volumes compared to the previous model with pump casing. With a lower weight and reduced alternating masses, handling is improved even more, the front end is lightened to the full advantage of the pilot in aerial manoeuvres. Vibrations have also been reduced. Were also introduced rimmed clutch discs specially made to obtain a precise and manageable clutch especially in the most extreme situations with repeated actions even at high revs such as, for example, obstacle jumping and single-wheel hops. Then there are also changes in the engine mappings, always with a view to rewarding performance and driveability with a more explosive power delivery and a titanium collector with heat protection.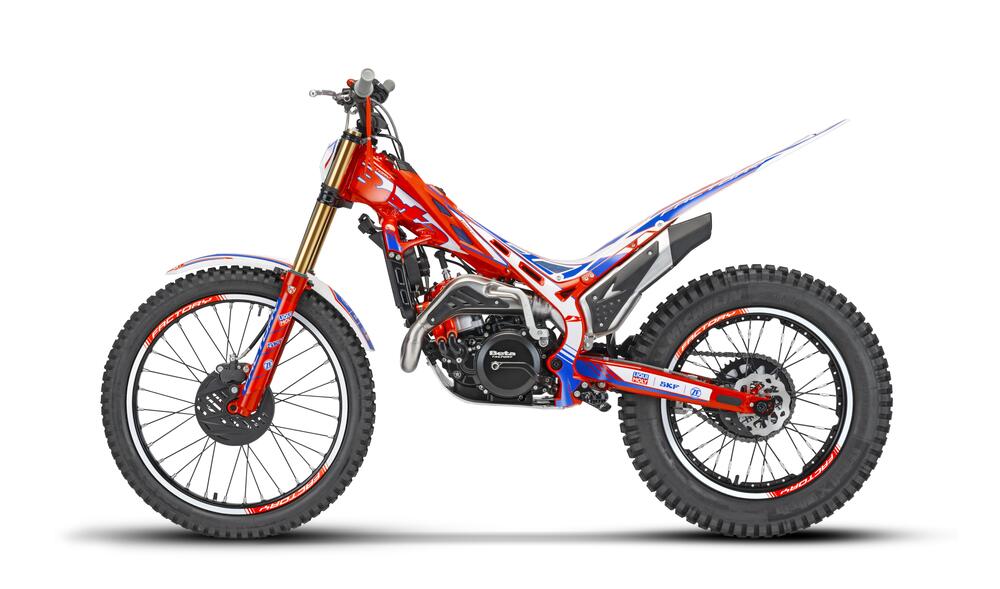 Beta Evo Factory 4 stroke

The interventions on the four-stroke engines also went in the same direction with the electronic control unit which receives an increase in electrical power. This leads to greater spark stability and consequently better combustion at all engine speeds. then a new one was introduced titanium silencer lighter and more performing.
Cycling news

The first most evident novelty is the adoption of stems with gold finisha coloring that is not due only to aesthetic but functional reasons as a result of a TIN treatment which improves smoothness. They change too hydraulic management components and there's internal padding with more support and absorption when landing from great heights. The lunge should thus be more controlled. The settings of the single shock absorber have obviously also been revised and the linkage is even more progressive. The triple clamps are machined from solid and black anodized as well as the chain adjusters, the handlebar caps and the footpegs. The brake hoses are red in silicone and we find new Galfer discs. Brake and clutch master cylinders are BrakTec and the rear brake caliper has an anti-vibration pad system. The rims are black Morad and fitted with Michelin X-light tyres.