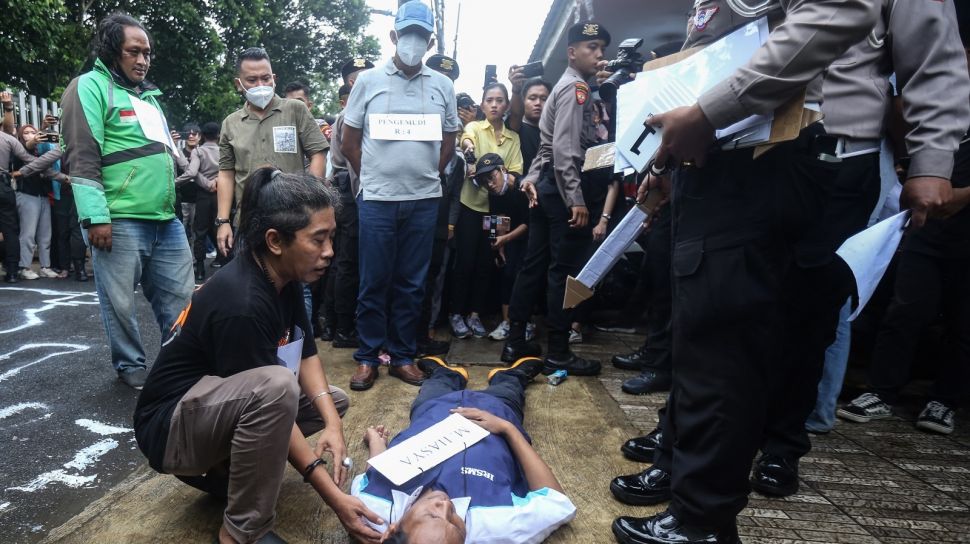 Suara.com – The police carried out a reconstruction in relation to the death of University of Indonesia (UI) student Muhammad Hasya Atallah Syahputra. As is known, Hasya became a victim of being run over by a Mitsubishi Pajero belonging to the former Cilincing Police Chief, AKBP (Purn) Eko Setia Budi Wahono who was later made a suspect.
In this re-construction, nine scenes were performed. Starting from the incident of Hasya's fall, who allegedly avoided the motorbike in front of him, to when Atallah was run over, then he was taken away using an ambulance.
Then, nine witnesses were involved in the reconstruction, including an online motorcycle taxi driver named Agus Rayadi (34), who at that time was in a hurry to pass by.
Agus himself is not exactly sure about the death that occurred on Jalan Srengseng Sawah, Jagakarsa, South Jakarta, on October 6 2022.
Also Read: Polda Metro Jaya Will Reconstruct UI Student Accident Reconstruction, Hasya's Family Will Be Invited
Agus admitted that he had just visited the location after someone contacted him. When he arrived at the location, Hasya was lying on the side of the road and covered in blood
"The victim is on the sidelines, with that pack (Eko) already there," said Agus, Thursday (2/2/2023).
But when he arrived at the location, Hasya was just put there, without anyone taking him to the hospital. Until finally Agus called an ambulance.
While waiting for the ambulance to arrive, Agus noticed Hasya's condition. At that time, Hasya, continued Agus, suffered a wound in the waist.
"No head (wounds), no blood at all," said Agus.
Also Read: Criticism of the Fact-Finding Team on Hasya's Death, BEM UI calls Polda Metro Jaya Unprofessional: Working after being criticized harshly
Meanwhile, another witness, who was the ambulance driver who took Hasya to the hospital, said that when he was at the location he did not check Hasya's condition.
He only swiftly lifted Hasya onto a stretcher, then put her in the ambulance.
"Do you know whether the victim was still alive or not," said the police officer asking the ambulance driver.
"I don't know, but he is no longer breathing. The position of his eyes is up in a still position. Only the white color is visible," said the ambulance driver.
This reconstruction was again carried out to answer legal certainty for Hasya. Hasya himself was previously named a suspect in this case even though he was the victim who died in the incident that happened to him.
The case was later dropped, because the suspect was declared dead.
In this reconstruction, Polda Metro Jaya also involved several parties, including the Traffic Accident Analysis (TAA) team, then there were also several experts, transportation and legal experts.