Suara.com – Linda Pujiastuti alias Anita 'Cepu' has denied that she is a 'mami' or a pimp who provides women for commercial sex work.
This was revealed when he was presented as a witness for former West Sumatra Police Chief Teddy Minahasa at the West Jakarta District Court on Monday (27/2/2023).
Hotman Paris, Teddy Minahasa's attorney asked about Anita who had worked in a hotel.
"At the beginning the witness told what work at Hotel Classic was?" Hotman asked.
Also Read: Received a letter from Teddy Minahasa, AKBP Dody admits that he was asked to join and corner Anita Cepu
"Classic spa," answered Anita briefly.
Hotman Paris asked questions again to Anita, calling the place where she worked provided 'massage plus-plus'.
"There are members of my team who don't come, saying it's a plus-plus massage place, is that true?" said Hotman.
"Right," Anita replied.
"It's a plus-plus massage parlor, so you're guest relations there, right? GRO? Is that the job of this girl to…" asked Hotman who was immediately cut off by Anita.
Read also: Testimony of Anita Cepu about the term groceries, invoices and gallons discuss methamphetamine with Teddy Minahasa
"No, that's not my part. So if a guest comes to Classic Spa, they come to us first, I ask what they want? What do you want for a massage, then we will direct them," explained Anita.
"Do you want a massage or what? Are there classes?" Hotman said.
"No, there are foot massages, karaoke massages, plus-plus massages," Anita replied.
"Giving sexual services like that?" Hotman asked again.
"Yes," answered Anita briefly.
The trial also revealed that Anita and Teddy met in 2013, when he was a GRO or guest relations officer.
"I know my 2013 defendant as a GRO (guest relations officer). For example, if there is a guest who orders a massage (spa massage plus-plus) it goes through me first, then I throw it behind," said Anita.
Charged with Selling Barbuk Crystal Meth
In the previous trial, the prosecutor charged Teddy with the former Head of the Bukit Tinggi Police AKBP Dody Prawiranegara, Syamsul Maarif, and Linda Pujiastuti alias Anita Cepu of selling evidence of methamphetamine.
The indictment stated the reason Teddy ordered Dody Cs to sell the methamphetamine evidence for member bonuses.
When carrying out this crime, the prosecutor also disclosed a number of codes used by Teddy when ordering Dody to exchange methamphetamine evidence for alum.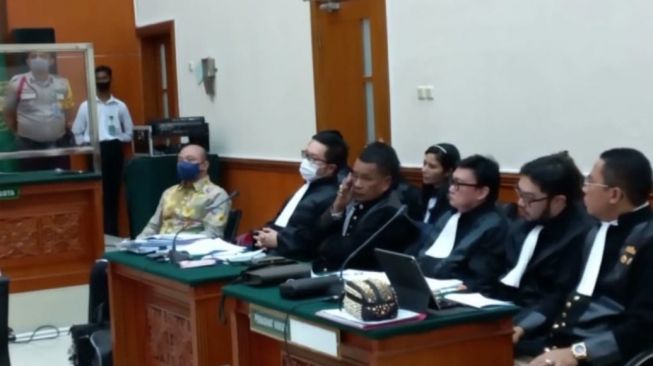 The trial in the drug case involving Inspector General Teddy Minahasa at the West Jakarta District Court on Monday (20/2/2023). (Suara.com/Faqih Faturrahman
The prosecutor explained that the case of embezzling methamphetamine evidence began when Dody reported the disclosure of 41,387 kilograms of methamphetamine to the defendant Teddy on May 14, 2022 via a WhatsApp message.
At that time, Teddy initially only ordered Dody to round up the evidence to 41.4 kilograms.
On May 17, 2022, Dody then contacted Teddy again via WhatsApp message to ask about the time of exposure or release of the drug case. It was at that time, said the prosecutor, that Teddy ordered Dody to exchange some of the methamphetamine evidence for alum on the pretext of a member bonus.
"Witness Dody stated that he did not dare to carry it out," said the prosecutor at the West Jakarta District Court, Thursday (2/2/2023).
Then on May 20, 2022, Teddy met Dody at the Santika Hotel, Bukittinggi. During the dinner with key officials from the West Sumatra Regional Police, Teddy gave a code to Doddy.
"The defendant Teddy Minahasa said 'don't forget Singgalang 1' to witness Dody Prawiranegara who was also present at the dinner," explained the prosecutor.
After meeting at the Santika Hotel, Teddy then ordered his aide to order Doddy to face his room on the 8th floor of the Santika Hotel. It was at this moment that Teddy again ordered Dody to exchange 10 kilograms of methamphetamine for alum with the code 'play'.
"At around 23.41 WIB, the defendant Teddy Minahasa Putra sent a message via the WhatsApp application to witness Dody Prawiranegara with the sentence 'play it, bro'," explained the prosecutor.
"Witness Dody Prawiranegara answered 'ready generals'. Then the defendant Teddy Minahasa Putra answered 'at least 1/4′ and witness Doddy Prawiranegara answered again '10 generals ready'," said the prosecutor.