Suara.com – Several supporters of the former Head of Propam Polri Division, Ferdy Sambo, were present at the South Jakarta District Court (PN Jaksel) during the sentencing hearing in the premeditated murder case, Brigadier Nofriansyah Yosua Hutabarat or Brigadier J, Monday (13/2/2023) today.
Monitoring by Suara.com at the location, the Sambo fans sat in waiting chairs in the lobby of the court.
They looked compact wearing black t-shirts with Sambo's face motifs on the back.
Not only that, the T-shirt also had red writing that read 'A Point of Hope in a Congested Court Room' in accordance with the title of the defense memorandum or pleidoi Sambo.
Also Read: FACT CHECK: Is it true that Jokowi Executed Ferdy Sambo?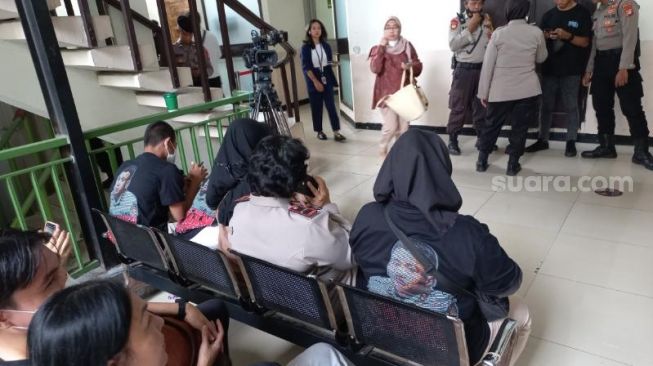 Fans of Ferdy Sambo watching the verdict trial in the Brigadier J case at the South Jakarta District Court. (Suara.com/Rakha)
When Sambo entered the courtroom at around 10.00 WIB earlier, the fans cheered in unison.
"Cheer up, Pak Sambo," they said.
Sambo Ikhlas Sentenced
Previously, Ferdy Sambo Rasamala Aritonang's lawyer claimed that his client had not made any special preparations ahead of the sentencing hearing. According to him, Ferdy Sambo has been willing to face today's sentencing hearing.
"There was no special preparation, what is clear is that Pak FS (Ferdy Sambo) has conveyed all the facts he knows and as an ordinary human being he has repeatedly expressed his regrets including at trial, so he is willing to face a verdict," said Rasamala to reporters, Sunday (12 /2/2023).
Also Read: Ferdy Sambo Undergoes Judgment Trial, Netizens Ask for the Death Sentence: Meet in the Afterlife!
According to Rasamala, Ferdy Sambo only hoped that the panel of judges would remain independent and wise in imposing a verdict. Although according to him there was pressure from several parties so that Ferdy Sambo was given a heavy sentence.