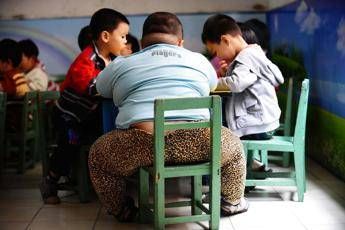 "Excess weight favors the onset of other diseases and reduces life expectancy even in adolescents. And now that new, finally effective therapeutic tools have just become available, which lead to a reduction in weight of up to 10%, we need to rush to timely repairs in cases of serious and complicated childhood obesity, even with drugs starting from the age of 12". In view of World Obesity Day which is celebrated on 4 March, the experts of the Italian Society of Pediatric Endocrinology and Diabetology (Siedp) thus announce "a major change in the Guidelines for adolescent obesity, with a strong recommendation for the drug therapy and entry into clinical practice". The use of drugs from the age of 12 is cleared for the first time, but "only when the corrections to the lifestyle pursued with the families and the structured intervention of specialists do not work. Diet and motor activity – specifies the Siedp – remain the first approach to promptly attack the disease and not get to the drug".
"Anti-obesity drugs are not a shortcut – the specialists point out – Healthy eating and physical activity represent the first-line treatment to solve the problem, which should not be delayed precisely to avoid reaching the drug". These are the basic principles on which the new guidelines for the treatment of childhood and adolescent obesity are based, which Siedp is about to publish and which it explains that it has updated in light of the recent changes to the new American guidelines. As in the United States, therefore, also in Italy, when the structured change of lifestyles does not work, experts recommend the use of drugs from the age of 12, which are starting to enter clinical practice.
And precisely to promote and make children and families aware of the importance of a healthy lifestyle to prevent obesity and overweight, the Siedp, with the support of the Italian Union of Sports for All (Uisp), on Saturday 4 March from 9 to 13 square in four Italian cities: Genoa, Messina, Parma and Naples. The specialists will offer free visits to children and their families and will distribute a practical guide to improve nutrition and motor activity in children who will be involved in sports and games.
"Obesity is not a fault or a choice, but a chronic and complex disease not of the child but of the whole family – says Mariacarolina Salerno, president of Siedp and director of the Endocrinological Pediatrics Unit of the Department of Translational Medical Sciences of the University Federico II of Naples – Obesity is characterized by an alteration of the ability to regulate the energy balance efficiently, which alters the hunger and satiety system, with the risk of complications such as diabetes, cardiovascular pathologies, hypertension, hepatic steatosis and a reduction of fact of survival".
"But saying that obesity is a disease does not mean that a pharmacological approach is always necessary, let alone a surgical one – explains Maria Rosaria Licenziati, general secretary of Siedp and director of the Neuro-endocrine Diseases Unit and Obesity Center of Aorn Santobono-Pausilipon of Naples, co-author of the new guidelines – Fighting a sedentary lifestyle and healthy eating for adolescents and their families represent the first attempt to make: the important thing is to intervene promptly when obesity is not serious to avert, when possible, the drug use".
At least 40% of children with obesity – recalls a note – will still have obesity in adulthood, with an increased risk of mortality in the long term. In 2030 it is estimated that there will be 253 million overweight or obese children in the world, more than those affected by malnutrition. Today in Italy it is estimated that obesity is present in 10% of children, about 700,000 between the ages of 5 and 15. Of these, over 150 thousand are seriously obese and only a small part due to a genetic defect. "In our recommendations, as in the American guidelines, the first step envisaged is always lifestyle intervention. But it is good to reiterate that advice such as 'eat less and move more' is useless", warns Claudio Maffeis , professor of Pediatrics at the University of Verona, director of the Regional Center of Pediatric Diabetology and Obesity, first author of the guidelines.
"To obtain lifestyle changes from adolescents that have an impact on weight – recommends Maffeis – it is necessary to carry out a structured and demanding intervention that involves the family with numerous meetings a year in the clinics dedicated to children and adolescents with obesity, carried out by a multidisciplinary team including pediatrician, dietician, psychologist In case of failure, if obesity is severe or there are complications (glucose intolerance, arterial hypertension, fatty liver disease, high triglycerides and/or cholesterol), the use of drugs that can be done starting from the age of 12. The drug does not replace, but complements the lifestyle correction.An option that we did not have and which is now available: drugs that lead to a reduction in weight of up to 10% Then, if the meds don't work either, surgery can be considered."
To date, only two anti-obesity drugs are authorized in Italy, even for children: setmelanotide, for some rare genetic forms of obesity from 6 years onwards, and liraglutide for common forms of obesity from 12 years onwards. Then. Liraglutide, approved last December, is an analogue of a human gastrointestinal hormone, Glp-1, which acts by reducing appetite. "In this regard, a Siedp study is underway – remarked Maffeis – which intends to evaluate, in real life conditions and not in a controlled experimental study condition, the efficacy of treatment with liraglutide in adolescents with severe or complicated obesity".
Finally, the 'Children in the square for health' initiative. "During the morning – illustrate Salerno and Licenziati – in Naples (Piazza Dante), Genoa (Play area of ​​the ancient port 'Il Giardino di Betty', Piazzale Mandracchio), Parma (Parco della Cittadella) and Messina (Piazza Municipio) we will offer free visits to children and their families and we will illustrate the handbook 'A practical guide to improve children's nutrition and motor activity', with suggestions for equipping a do-it-yourself gym starting from recycled elements. even a frisbee, symbol of the event, to play and fight a sedentary lifestyle.There is no condemnation to being overweight all your life, the important thing is to intervene with a healthy lifestyle when obesity is not yet serious ".