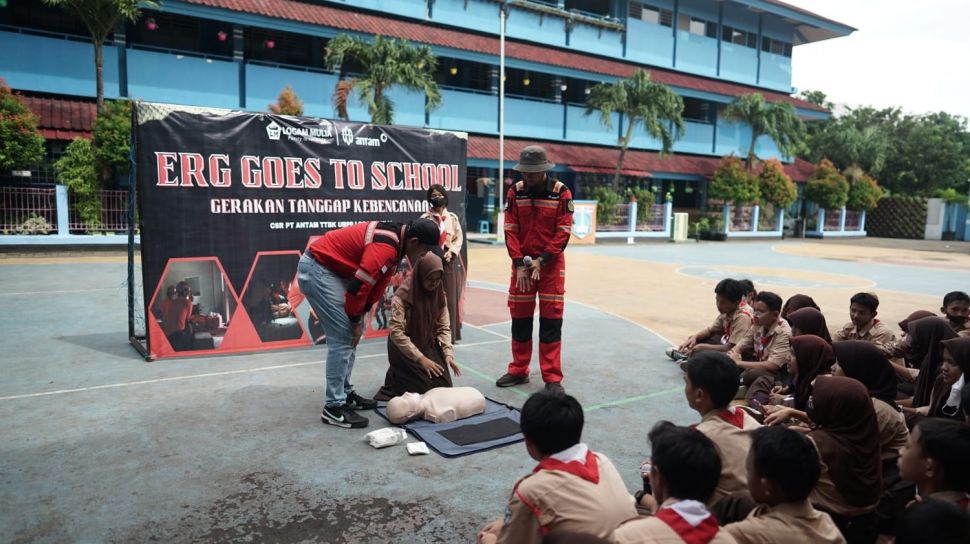 Suara.com – PT Antam Tbk through the Precious Metals Processing and Refining Business Unit (UBPP) held the ERG Goes to School activity to reduce disaster risk. In this activity, Antam's Emergency Response Group (ERG) team will provide knowledge about disaster education and Basic Life Support and First Aid Training which students will immediately practice.
Antam's Corporate Secretary, Syarif Faisal Alkadrie said disaster education for students is needed to increase awareness and vigilance regarding the possibility of a disaster occurring. Through this activity, students are expected to be able to recognize disaster risks around the school environment and take mitigation steps in the event of a disaster, both before, during and after a disaster.
"We hope that this activity can protect school members from disaster risks, increase security risks for students, teachers and other education personnel, as well as increase disaster knowledge so that they will be more alert and ready to face disasters," said Syarif.
Syarif added, the ERG Goes To School activity is Antam's social and environmental responsibility effort in line with Superior Synergy in the field of education.
Also Read: Antam's Gold Price Drops to IDR 1.02 Million per Gram
Meanwhile, the Principal of SMPN 158 Jakarta, Titah Sunarlestari appreciated Antam's efforts in implementing disaster education.
"This program is very beneficial for students. Because students get new lessons that are exciting and fun. They are also active, responsive, because the presenters provide an understanding of disaster response from an early age to students in an easy-to-understand way," he said.
Raden Arjun, a grade VIII student who participated in the ERG Goest To School at SMPN 158 Jakarta, also benefited from the activities carried out.
"I am very happy to join the ERG Goes to School program. This program provides a lot of new knowledge and I understand how to do first aid when dealing with someone who has had a cardiac arrest. In addition, I also know how to deal with disasters from an early age. Thank you Antam," said Arjun.
For information, on February 8 2023, Antam visited SMPN 158 Jakarta to hold this activity. In other words, SMPN 158 Jakarta is the first school visited by Antam. This activity will be carried out until June 2023 and involves students from elementary, junior high to high school levels in the Pulogadung District.
Also Read: The Hidden Advantage in Antam's Gold Investment: Don't Miss the Opportunity to Secure Your Financial Future!