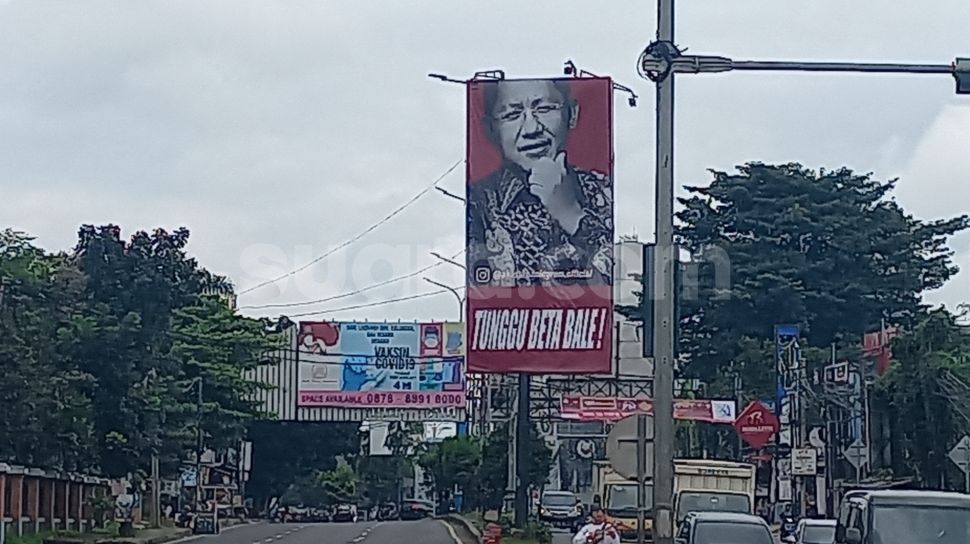 Suara.com – A large billboard with a picture of the former chairman of the Democratic Party DPP Anas Urbaningrum with the words "Wait for Beta Bale" was seen on the Cibubur Alternative Road, Jatikarya Toll Gate Intersection. The striking photo has circulated on social media.
Uniquely, the billboard stands not far from the home of the sixth President, Susilo Bambang Yudhoyono, who is now the Chairman of the Trustees of the Democratic Party.
Responding to this, the General Chairperson of the Nusantara Awakening Party (PKN) Gede Pasek Suardika, who is also known as an Anas loyalist, admitted that he did not know.
"I don't know yet because I'm still out of town. Later I'll check who installed it. Maybe they already miss AU (Anas Urbaningrum)," Pasek told reporters, Friday.
Also Read: TXT Becomes the Second K-pop Artist to Stay in the Top 3 of the Billboard 200 for 2 Weeks
Furthermore, the former Secretary General of the Hanura Party also suspects that the billboard was installed at the direction of Anas' friends.
"He has lots of friends," he said.
When further confirmed about the PKN's political steps, Pasek said he was still waiting for Anas to be released.
"We will investigate who installed it. PKN is still waiting for the AU to become independent first, then talk about matters related to politics. Be patient until the AU becomes independent, we don't want to disturb it yet," he said.
Previously, Gede Pasek Suardika said that Anas Urbaningrum was free to choose any position at PKN after being released from prison. According to him, the opportunity for Anas to join PKN is very open.
Also Read: BTS's Proof Becomes the K-pop Album with the Longest Charting on the Billboard World Album Chart
The PKN created by Gede Pasek was indeed established because many Anas Urbaningrum loyalists initiated it.
"That's easy (regarding Anas' position at PKN), all that remains is for Anas to ask wherever it is for us there is no problem, but let him deliver it," said Pasek when met at the Indonesian KPU Office, Central Jakarta, Tuesday (2/8 /2022).
However, Pasek was reluctant to reveal clearly about Anas' steps going forward with PKN.