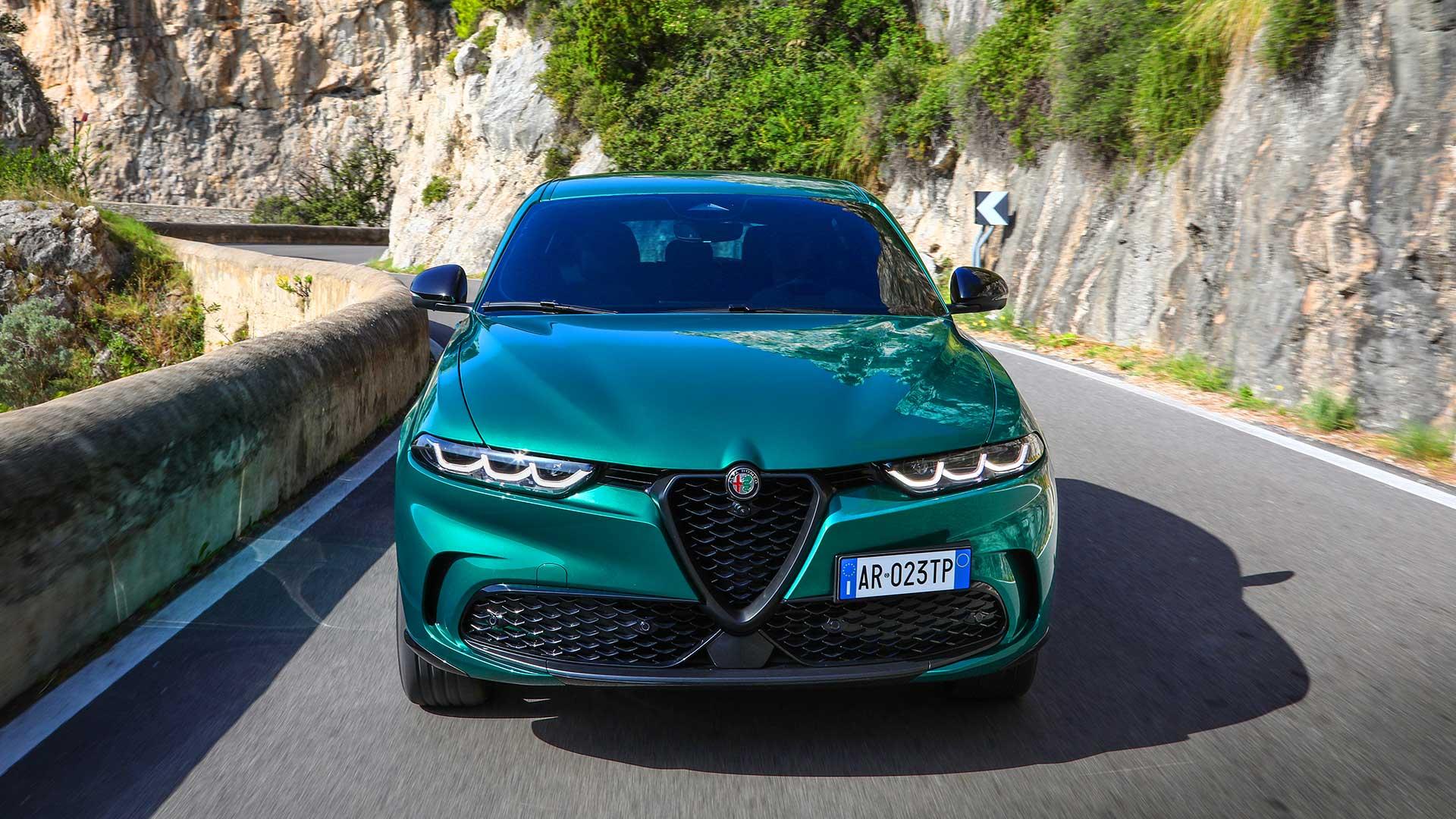 Let us introduce you to the very first Alfa Romeo with a plug. Something you can quickly get used to, because from 2027 Alfa does not want to build any cars with a combustion engine at all. This Alfa ROmeo Tonale Plug-in Hybrid Q4 still has one, in combination with an electric motor. That duo may, according to Alfa itself, give a new meaning to the term 'sportiness'.
The 280 hp that this Edizione Speciale puts on the mat certainly helps with that. Although, according to the Italians, sportiness is no longer purely about power in 2023. It's about the ultimate driving experience for the conditions that apply at that time. Go ahead. So, sportiness with an efficient edge.
Range of the Alfa Romeo Tonale PHEV
And indeed, you can make it a sport to tap those 80 kilometers fully electric in an urban environment every day. Or stretch your overall combined range as long as possible, up to a maximum of 600 kilometers. The DNA driving modes – Dynamic, Natural and Advance Efficiency – will support you in this.
The four-cylinder in this Tonale delivers 180 hp to the front wheels; the rear wheels are powered by a 122-hp electric motor. That produces a combined power of 280 hp and this little brother of the Stelvio can translate that surprisingly well to the asphalt. It sprints to 100 km/h in 6.2 seconds and although it doesn't have a fancy exhaust system (or please, because why?), the 1.3-liter block actually produces an audible sporty sound.
But how does the Alfa Romeo Tonale PHEV drive?
The powertrain feels smooth and if there were any breaks in gear shifts, the electric motor intervenes to smooth out those last wrinkles. Steering in this upper-tonal (they are not more powerful yet) feels light and direct, sometimes almost too much. If you set the DNA button to Dynamic, the Tonale is not only at its most direct, but it also gives just a little more weight to your steering movements.
And that's nice, because the lack of communication in your steering wheel is slightly alleviated. In other words: if you are preparing for a sporty ride, you should switch to Dynamic, especially because of the steering behavior. If you want to drive a hybrid, choose Natural. For the smartest fully electric ride, choose Advance Efficiency. If you are indeed going to cut corners sharper, don't be surprised if you wobble back and forth in your seat.
The interior could be a bit better
One of the points for improvement that we can come up with for the interior is that the side bolsters of the front seats are very far apart. Could have been a bit tighter, for that extra bit of sportiness. For others – but not for us – the presence of quite a few physical buttons could feel like a downside.
After all, we live in an age of touch screens. Still, the Tonale gets away with it, mainly because the buttons work flawlessly and intuitively. Something we can certainly not say about all touchscreens.
Alfa Romeo Tonale PHEV: the conclusion
We can be brief about it. The Tonale-with-plug is a smooth and tasty (but sometimes a little too light steering) car in which you do not necessarily lack anything. And if you like typical Alfa retro bits, you will also enjoy yourself thanks to details such as the SZ-like headlights, the counter housing with two tubes and the red striped maximum speed range.
Specifications of the Alfa Romeo Tonale Plug-in Hybrid Q4 Edizione Speciale (2023)
Motor
1.332 cc
four-cylinder turbo hybrid
280 pk @ 5.750 tpm
270 + 250 Nm @ 1.850 tpm
Drive
four wheels
6v automatic
Performance
0-100 km/u in 6,2 s
top 206 km/u
Consumption (average)
1.4l/100km
32 g/km CO2 A Label
Dimensions
4.528 x 1.841 x
1.601 mm (l x b x h)
2,636 mm (wheelbase)
1.810 kg
43 l (benzine)
385 / 1,430 l (luggage)
Prices
€ 50.900 (NL)
€ 51.000 (B)