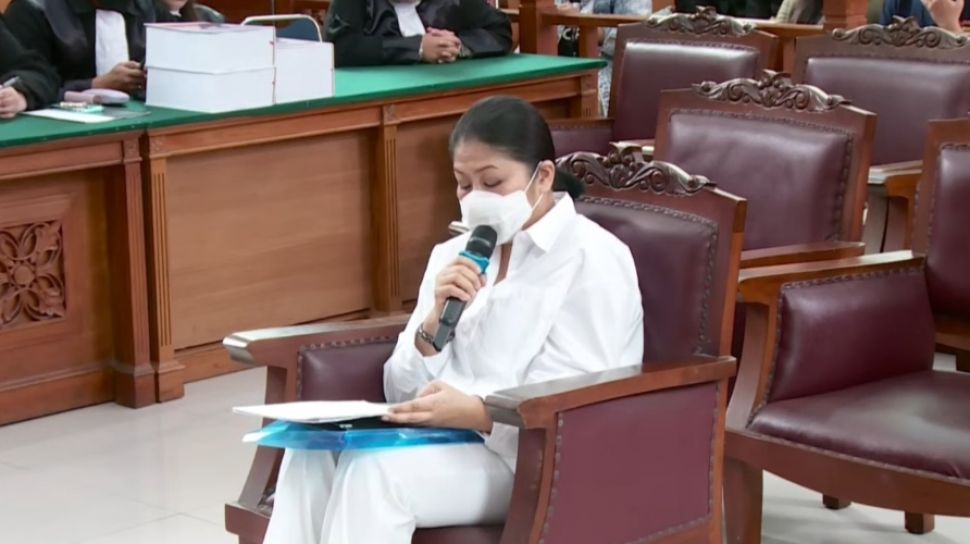 Suara.com – Ferdy Sambo's wife, Putri Candrawathi, began reading her plea in the premeditated murder trial of Brigadier Nopriansyah Yosua Hutabarat at the South Jakarta District Court, Wednesday (25/1/2023).
Putri Candrawathi entitled her plea 'A Letter from Behind Bars: If God Allows Me to Hug Our Children'. In her defense, Putri said she felt grateful even though now she has to be detained and sits as a defendant in the murder case of Brigadier Yosua.
"Even though I am in a very deep downfall at this time, I am still grateful. God gave me extraordinary strength so that I was able to face all of this and now I can read it in front of Your Honors Panel of Judges and the people who witnessed this trial," Putri said in the courtroom.
With a trembling voice, Putri hoped that her plea could be considered by the panel of judges to sentence her.
Also Read: Read the Defense Memorandum, PC Instead 'Confides' His Love Story with Ferdy Sambo
"Hopefully, this defense can be heard in its entirety and considered clearly before judging me too far for all accusations of wrongdoing that I never did," he said.
He said the defense note was written while he was in prison. In her defense, Putri said she had been slandered and accused of something she did not do.
"From behind these bars in the Attorney General's detention house, with a hobbling gathering of remaining energy, I am writing a letter for anyone who wants to read and hear it by heart. A note of defense from a woman who was hurt and bombarded with millions of accusations, stigma, slander against what has never been done," said Putri.
Not to forget, in her plea, Putri also conveyed her longing for her children. He felt thrown into jail on a vicious charge.
"A mother's defense note
who was forcibly separated from her children only on the basis of flimsy and far-fetched accusations," he added.
Also Read: Ferdy Sambo's child tells the story of falling in love until he wants to faint due to RM BTS, Trisha Eungelica claims to be ARMY
For information, the prosecutor demanded 8 years in prison in this case. The demand for 8 years in prison refers to the prime charges of Article 340 and Article 55 paragraph (1) 1st of the Criminal Code. The sentence is lighter than the maximum penalty, namely death penalty.
The public prosecutor stated that Putri was found guilty of committing the crime of premeditated murder. Therefore, Putri was asked to be held accountable for her actions.