We are going to explain to you what to do when your laptop gets too hot, offering you several different tips to be able to reduce the temperature. When it happens to a laptop, it's not the same as when a PC gets too hot, since there are some tips that are different, and you can't move a laptop around to keep it cooler either.
The idea of ​​this article is that you have several ideas to try to solve this problem regardless of your knowledge. In this way, we have some basic and simple solutions, but we have also added some more advanced ones for experienced users.
First measure the temperature of the laptop
If your computer is slow, this is just one of the symptoms that it may be overheating, but it does not necessarily mean that it is due to that. Therefore, the first step is to make sure that the laptop gets too hot, and for that you have to measure CPU temperature to get out of doubt and be really sure that this is the problem.
You have several methods to measure the temperature of your CPU. On the one hand, you can enter the BIOS or the UEFI of your computer, and accessing the system information. You can also download third-party programs, such as the open source tool Open Hardware Monitor where, among a lot of information, it will show you the temperature of the equipment, indicating the current one and the recommended one that you should have so that you can compare.
Check that there are no applications eating resources
Once you have verified that yes, your laptop gets too hot, you can start to solve it. First of all, you can see if it is a problem within the operating system, that has to do with an application that it has hung up or is behaving abnormally that eats up resources. In the event this happens, this program could inadvertently cause your laptop to overstrain.
To test this, start by pressing Control, Alt, and Delete at the same time. A window will appear, where you have to enter the task manager. There you will be able to see the percentage of CPU used by each application that is running, and if you see that one has it triggered, try to end the task. This should mean that, as it is demanding less from the computer, it lowers the temperature.
restart the computer
Before starting to look at more complex things, if you are detecting that there is an application that does not work correctly and it is not enough to close it by hand, something that you can always try is restart your laptop for all applications to close and then start working again.
Sometimes, the abnormal behavior of an application is due to a specific problem, and a restart is enough. But if it were not, what I recommend is check for updates for the program that is malfunctioning or that you consider using an alternative.
Leave ventilation slots free
And if the problem is not internal, it may be external. In this regard, a laptop does not usually have as much cooling capacity as a desktop, so we have to be careful with some things. The first step in good practice to properly cool your laptop is the most basic, that of do not cover the ventilation slotssince it is where the hot air comes out.
It is important locate the ventilation slots of your laptop to know the exact place where they are, and thus make sure you do not accidentally cover them if you lie in bed with him or put him on top or on some cloth. The freer the slots are, the more ventilation capacity your laptop will have, and it is important not to hinder them and always seek to support it in such a way that they remain free.
Beware of external sources of heat
Sometimes, no matter how free the ventilation slots are, there is another factor that you cannot control as much, and that can also influence the temperature of the device. Is about the room temperature to which it is, so it is important to have your room well ventilated and cool, especially in summer.
In summer the heat can quickly become concentrated in a room, and closed environments also contribute to the rise in temperature and the accumulation of dust. You should also try keep the laptop out of direct sunlight in summer, and that in winter it is not close to other sources of heat such as stoves. In short, try to use it in a place that is as cool as possible.
Consider using a cooler base
In the event that the above advice is not enough, you will have the resource of buying a device to keep the laptop cooled a little better. One of the best options is bet on a refrigerator basewhich can help you on the hottest days or in the most stressful tasks of your laptop so that it stays cooler.
It is especially recommended if we edit video with the laptop or if we spend many hours playing with it. These are bases with fans that will make the laptop resting on it cooler. There are several types of these bases, aluminum being the best for better favoring heat dissipation compared to plastic ones.
When buying one, you should also take into account aspects such as its number of fans or air flow, measured in CFM (cubic feet per minute). The more fans and more airflow, the better. The docks connect directly to the laptop or to an adapter via USB. To choose the best, here is a list with the best according to Xataka Selección.
Do you also have laptop coolers?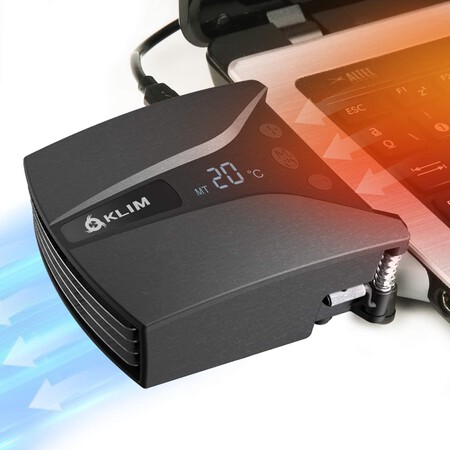 A lesser known alternative to cooling pads are small devices called laptop coolers. These are small devices that sits on top of laptop racksand is in charge of collecting the hot air and dissipating it, like a mixture between a fan and a suction fan.
They are not as effective as charging stations, but they are smaller and cheaper. They are anchored to the laptop by clamps, and can be useful for when your laptop overheats, but it doesn't overheat.
Clean the laptop of dust
Sometimes the laptop can end up collecting dust inside. This can clog the fans and the components themselves, causing them to cool down worse. To do this, you'll need to clean the laptop inside, although you can use a compressed air spray through the vents to blow out some dust, but it's best to open them up to clean the inside.
To clean it inside, you will need some screwdrivers to open the laptop, which ones will depend on each model. After removing the bottom cover, you will access the inside of the laptop, and you can first use the compressed air without aiming directly at any component to remove the surface layer of dust.
Then, use some craft brushes, with which you can gently clean the dust particles attached to the electronic components that do not come off with the compressed air. Here, remember to apply as little pressure as possible so as not to damage any component, and pay special attention to the fan blades and the gap between them. You have the complete guide to cleaning the interior of the laptop in this article.
If you are advanced user, consider thermal paste
Beyond cleaning the laptop inside, there is something else you can do, but this is only for advanced users because it is more complex, and you have to do it carefully and only if you know how to do it correctly so as not to damage the laptop. If your laptop is over four years old, CPU and GPU thermal putty may have lost propertiesand that they are not conducting the laptop's heat well.
Thermal paste is relatively easy to find, and cheap. But the key is knowing where you have to put it, something for which it is advisable to look on the manufacturer's website or through specialized Internet forums. And if you are not sure how to do it, it is best not to risk putting it without knowledge.
There are also heating pads
In addition to fans, laptops also have other heat sinks to conduct heat, using thermal pads that can wear out just like paste. Changing them is not complicated, and by doing so you will make the heat dissipate much better. Of course, again, this is something that is best only done if you have the knowledge and experience to do it, and know how to locate the heatsinks and their thermal pads.
Change CPU performance
Another advanced method that you can try is at the operating system level, and that is to change the CPU performance from Windows. To do this, in the program launcher you must type powercfg.cpl to enter the power options of the operating system. In them, you can change your laptop's high performance mode to a balanced one. If you click on the option to configure one of them, and from there click on Change advanced power settings, another window will open with your computer's power options.
Same as with thermal paste, I do not recommend making changes here if you do not know what they may imply, since they are advanced settings of the laptop. But just so you know, in the power options you will have a Maximum Processor Status field, where you can reduce processor performance which is at 100% by default to try to lower the heat a bit.
This can also slow down your computer. and some demanding applications, but can be useful as a temporary measure for especially hot days. There are also other third-party apps that may interest you, such as a SpeedFan with which you will be able to change the speed of the fans.
Shut down or sleep your laptop when you're not using it
And finally, let's go with one last piece of advice. And it is that when you go to sleep or you are not going to use the laptop for several hours, it is best that you turn it off or put it to sleep. You can do this by editing the power plans for the PC, defining how long it takes for the laptop to turn off or go to sleep both when it's running on battery and when you have it connected to power.