Officially, Raditz never reached Super Saiyan status.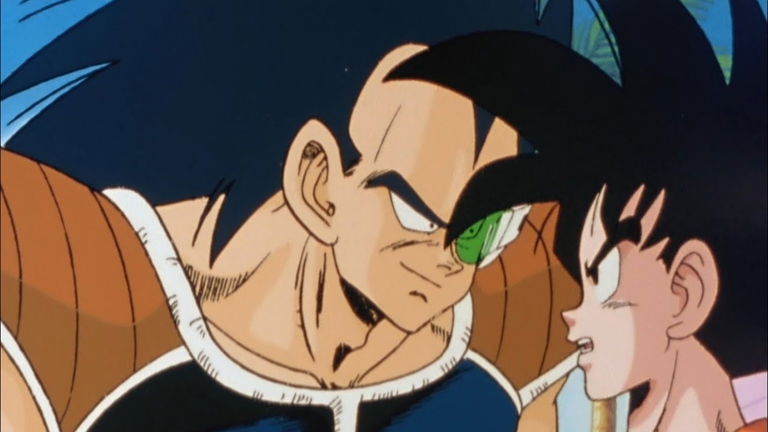 Raditz makes things very difficult for Goku
join the conversation
Raditz first appears in the Dragon Ball anime in Dragon Ball Z episode 1 kicking off the Saiyan arc. After a first run-in with Piccolo who was left in a draw because Raditz left, in the following combats, this member of Frieza's army gets beat Goku, Gohan and Krillin separately. Only between Goku and Piccolo manage to stop him, although It costs Goku his life as he sacrifices himself by holding Raditz so that Piccolo can finish him off. Now, what would have happened then? if Raditz had the ability to go Super Saiyan?
We know that Raditz was an arrogant brute He relied a lot on his power meter and didn't even bother to train his Saiyan tail, which cost him his life, but what would have happened if before Goku, Raditz managed to reach the Super Saiyan phase? In the end, both are sons of Bardock. Things would have gotten really tough for the Z-Fighters.
Raditz Super Saiyan
It is a more than interesting premise, things would have been very different for Goku and company. Surely they would have lost irretrievably, but it is something that we will no longer see. At least officially, since an amateur artist has created his own animated version of Raditz transforming into a Super Saiyan, as if it were a real scene from the anime. And the truth is that the result is completely outstanding, take a look.
(epilepsy warning for full screen flashes)

It's finally done x_x Super Saiyan Raditz, animated in the style of early DBZ

Huge thanks to my wife @betaruga1 for her help, love, and support to get me through this one <3 pic.twitter.com/Lt7ViW8bnk

— J's Candy Holiday (@JsCandyHell) January 16, 2023
Without a doubt, with how big and corpulent Raditz is and the increase in power that the Super Saiyan state gives him, he would have been a worthy rival to Goku, although perhaps for later. The beginnings of Dragon Ball Z, Goku was far from reaching his full potential.as we saw later in arcs such as Cell or Buu, where he manages to transform into Super Saiyan 3. In fact, Raditz also has a Super Saiyan 3 version, although again it is a version created by a fan, of course.
join the conversation