After 16 wins and over 100 starts on the Mountain, John McGuiness will also compete at the 2023 TT. 24-year-old Nathan Harrison will be his new teammate
January 22, 2023
You had to see it: a few minutes had passed since the end of the Senior TT 2022 and the great one John McGuinness – who had just obtained a ninth place, after fifth in the Superbike race – had answered my question on what he would do in 2023 by reiterating that with a competitive bike he too would have been in the game from the top of his palmares from over 100 starts at the Tourist Trophy seasoned by 16 wins. John is a true monument of road racing and unquestionably a rider who made the modern history of races on the Isle of Man, an iconicity that Honda also wanted to underline by dedicating a – wonderful – special and limited version of the CBR1000RR-R Fireblade to him.
It didn't surprise us too much then knowing it again this year the fifty-year-old "McPint" will be in the race and the news comes practically close to the opening of registrations for riders and teams for the 2023 TT.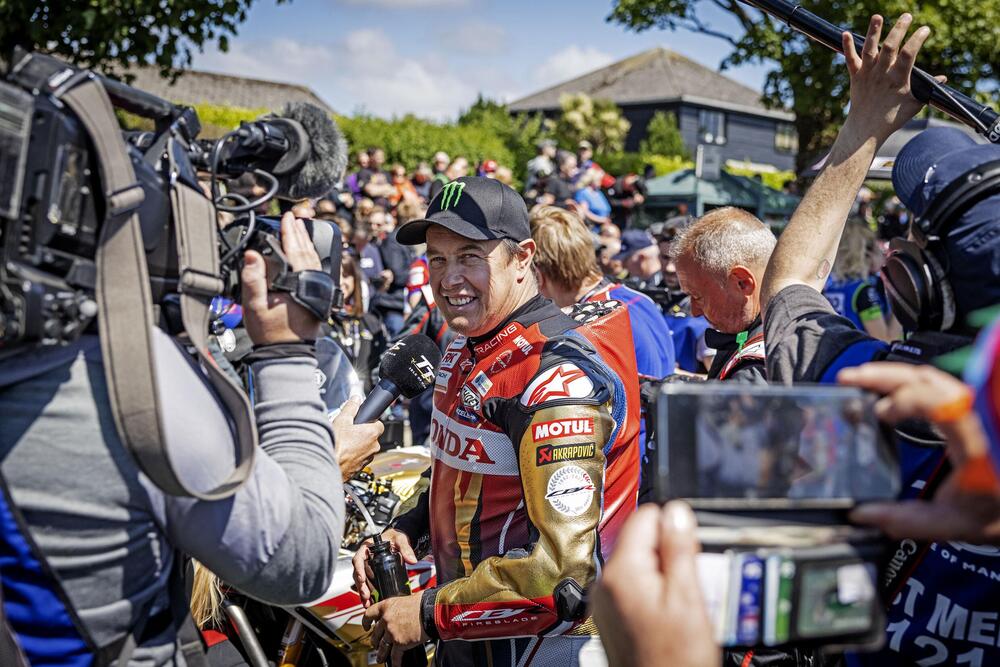 "Riding a Fireblade again at the TT last year was something special, so it felt right to continue for another year. I couldn't feel more at home with the Honda team, so I have a big thank you to Havier (Beltran – Team Manager ) and Neil (Fletcher – Head of Motorcycles)" he said McGuinnessadding: "Celebrating 100 TT starts with the team and riding in this unique livery and all the history we have was truly something special. Last year we even managed to get into the top 5 with Superbike, which It's been great, but I want to do more. I just want to start racing again!"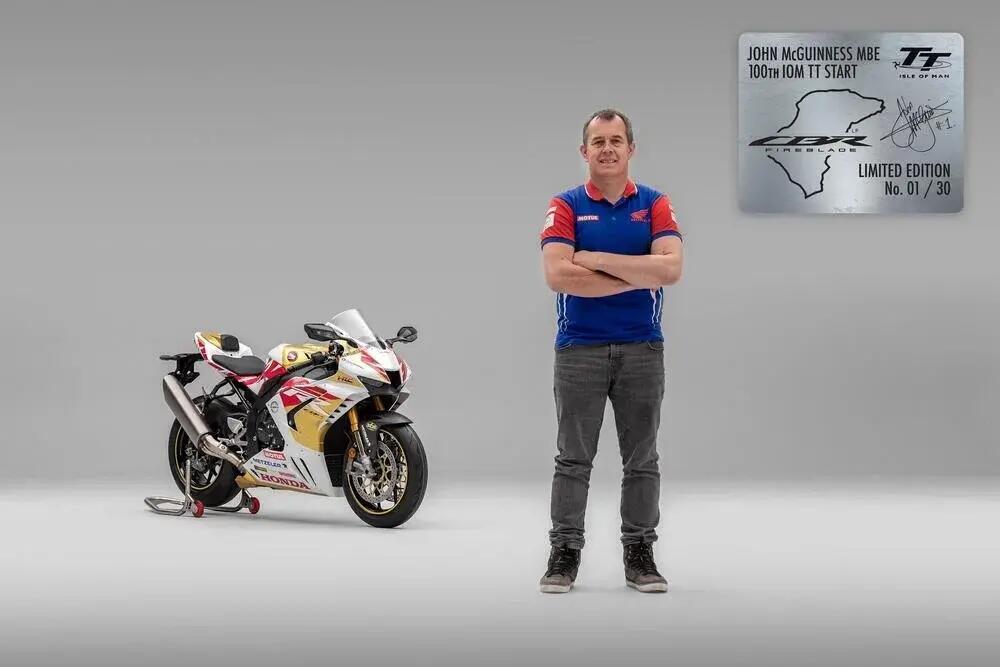 Mc Guinness and the limited version of the Honda CBR1000RR-R Fireblade
Glenn Irwin will not be at his side: last year the Northern Irish rider literally sparked by grabbing the title of best rookie ever at the TT (you can see our interview with Glenn in this video just before the Senior TT 2022) but this he signed with the PBM Ducati Team with which he recomposed another winning combination and will not be at the start of the TT. He will then be the twenty-four year old Nathan Harrison to lead the other Fireblade on the Mountain circuit in 2023.
Harrison is not a pure rookie in road racing: he participated in the Manx Grand Prix in 2018 and 2019 moving up to the TT in 2022 where, riding a private Honda Fireblade, he set a best lap of 128.087mph to finish his maiden Senior TT appearance in tenth place.
This year, therefore, a reconfirmation awaits him and the thrill of sharing the garage with one of his myths: "Watching the TT as a child with John and Honda dominating made me want to be the next 'John McGuinness' and that was my main focus. I can't thank Havier and Honda Racing UK enough for the opportunity," commented Harrison, noting that "2023 is only my second TT, so facing him on a big bike, with the best teammate I could wish for, will be an incredible experience. The long-term plan is ilearn from John, learn from the team and use all that experience to help my progression. We can take small steps forward from last year and hopefully this will help me to step onto the top step in the years to come."
Same satisfaction for the Team Manager Havier Beltran: "It gives me great pleasure to welcome Nathan to the team. He has had an amazing breakthrough year in 2022 and has impressed me with his attitude towards his racing. It will be great for him to learn from John and use all his experience and expertise to build step by step", but obviously the thought also goes to having extended his stay in the McGuinness Team: "I am also extremely pleased that we have been able to keep John's services for another year Welcoming him back into the fold in 2022 has been fantastic and seeing John celebrate 100 TT starts and be a part of that history has been fantastic for all involved.To continue that relationship for another season and build on last year it demonstrates Honda's commitment to international road racing. I'm excited to see what we can all achieve together in 2023."
McGuinness and Harrison will participate in the 2023 TT in the Superbike, Superstock and – of course – Senior categories: all about Honda Racing CBR1000RR-R Fireblade SP.