Adriana Ugarte and Juana Acosta, two well-known actresses on Spanish television, arrive at "El Hormiguero" and together with Pablo Motos, to talk to us about their new work, "Lobo Feroz", the new thriller that will be on screens from the 27th from January.
Adriana Ugarte, is a well-known Spanish actress after her time in the series "Tiempo entre costuras" or "During the storm". This young actress began in the audiovisual world 22 years ago when she appeared in "Mala Espina", a short film by Belén Macías. Since then her career has only grown and now she will be in charge of giving life to Matilde in the thriller "Lobo Fierce".
On the other hand, Juana Acosta is a young Colombian-Spanish actress whose career is also highly endowed with relevant audiovisual moments. She began her audiovisual career in "Golpe d'état" and rose to fame with her participation in "Hospital Central" and series like "Velvet" or "El inocento". Acosta will now be part of the cast of "Lobo Feroz" where she will play Sergeant Vidal.
This thriller is about the story of a policeman and a mother who seeks revenge. Both cross their paths in which they will try to find the alleged murderer, author of several crimes against girls. To all this, one of the police officers will try to make mistakes to make finding the truth like a… "Big Bad Wolf".
Both have been on numerous occasions in "El Hormiguero". Adriana Ugarte who put herself to the memory test together with the fun tests of blocks and canyons, and funny moments with Juana Acosta when she told us about anecdotes in her performances such as when she thought that her skirt had disappeared!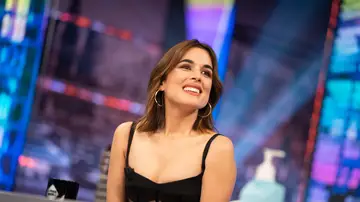 Do not miss everything that the two actresses will tell us about the new premiere of which they are part and that we are sure will be a success. Do not miss the visit of both tonight at 9:45 p.m. on Antena 3.