Sony announces the games that will accompany the launch of the virtual reality glasses.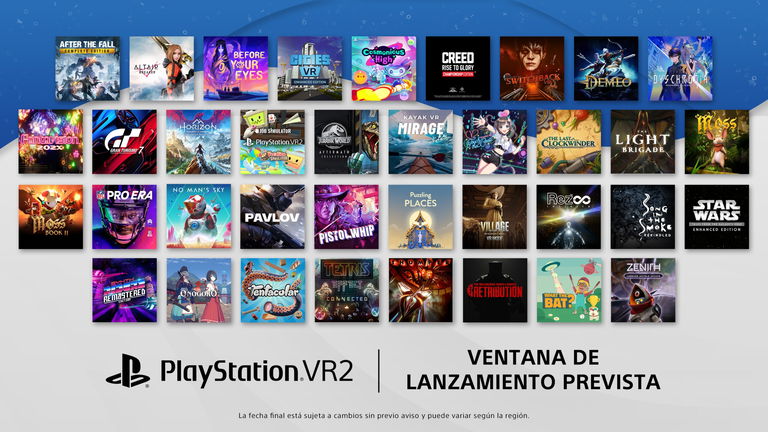 These are all the PlayStation VR2 launch games
join the conversation
Sony has announced a new wave of games that will arrive together with the launch of PlayStation VR2 on February 22. On this occasion, there have been a total of 13 titles announced, in addition to titles from popular sagas such as Horizon: Call of the Mountain, No Man's Sky or Resident Evil Village. In this way, a total of 30 games are grouped that will be available for virtual reality glasses in their first weeks on sale.
The first of the announced titles comes through an update, in the case of Gran Turismo 7 for PS VR2. Thanks to a free update, players of the Polyphony title will be able to enjoy all the cars and circuits in virtual reality. Thanks to eye tracking and 'foved' rendering, players will enjoy stunning visual fidelity while racing any of the game's over 450 cars.
Among the rest of the ads, it stands out Before Your Eyes, from Skybound Games, an emotional and award-winning adventure in which the player controls the story and its outcomes with the blink of an eye in real life. In this unique virtual reality experience, you will be fully immersed in a world of heartbreaking and joyful memories as the whole of life flashes before your eyes.
PlayStation Plus February 2023: predictions for the free games of the month
Another of the announcements has been Kayak VR: Mirage, where you will have to navigate the ice caves of Antarctica, kayak with dolphins in Costa Rica, face a thunderstorm in Norway and discover the canyons of Australia. The game will allow you to explore spectacular locations with photorealistic graphics, a wide variety of fauna and immersive soundscapes that bring it all together.
For his part, Pavlov VR is a competitive VR team-based shooter with realistic interactions with weapons and accessories, and various competitive and social game modes, while Puzzling Places brings the most entertaining and relaxing 3D puzzles to virtual reality, after its passage on PS VR, where it already allowed you to create hyper-realistic miniatures of various beautiful places around the world.
The list of news continues with Song in the Smoke: Rekindled, the definitive game of survival, action and adventure in virtual reality; an immersive physical game where you must craft, hunt and survive in a dangerous and fantastical world. Next to the remastered version of Synth Riders llega a PlayStation VR2 Thumperan adventure in which the player becomes a space beetle in a hellish journey of action and rhythm
List of PlayStation VR2 launch games
After the Fall (Vertigo Games)Altair Breaker (Thirdverse)Before Your Eyes (Skybound Interactive, approximate date)Cities VR (Fast Travel Games)Cosmonious High (Owlchemy)Creed: Rise to Glory – Championship Edition (Survios, approximate date)The Dark Pictures: Switchback (Supermassive, approximate date)Demeo (Resolution Games)Dyschronia: Chronos Alternate (MyDearest Inc., Perp Games)Fantavision 202X (Cosmo Machia, Inc.)Gran Turismo 7 (via free upgrade to PS5 version of GT7) Horizon Call of the Mountain (Firesprite, Guerrilla) Vacation Simulator (Owlchemy) Jurassic World Aftermath (Coatsink) Kayak VR: Mirage Kizuna AI – Touch the Beat! (Gemdrops, Inc.)The Last Clockwinder (Pontoco/Cyan Worlds)The Light Brigade (Funktronic Labs, includes PS VR and PS VR2 versions)Moss 1 & 2 Remastered (Polyarc)NFL Pro Era (StatusPro, Inc., update free for PS VR2)No Man's Sky (Hello Games, approximate date)Pavlov VR (Vankrupt)Pistol Whip (Cloudhead, free update)Puzzling Places (Realities.io, free update)Resident Evil Village (Capcom, via free update to version from RE Village for PS5)Rez Infinite (Enhance)Song in the Smoke (17-Bit)STAR WARS: Tales from the Galaxy's Edge (ILMxLab)Synth Riders: Remastered Edition (Kluge Interactive, free update)The Tale of Onogoro (Amata KK )Tentacular (Return)Tetris Effect: Connected (Enhance)The Walking Dead: Saints & Sinners: Ch. 2: Retribution (Skydance, approximate date)Vacation Simulator (Owlchemy)What the Bat (Triband)Zenith: The Last City (Ramen VR , free update)
PlayStation VR2 will go on sale on February 22 at a price of 599.99 euros in Europe, amounts to 649.99 euros if we choose the pack with game that includes Horizon Call of the Mountain. You can check more information about the first confirmed PlayStation VR2 games or the gameplay of some of its main proposals.
join the conversation