Suara.com – Men's singles badminton player Jonatan Christie said that the title he won for the Indonesia Masters for the first time was the result of the patience he had maintained so far despite many failures.
Jonatan believes that everyone has a different path of destiny, and this time it was his turn to claim his long-awaited first BWF Super 500 title.
"I'm sure everyone has their own destiny. We just have to work hard, let God arrange the results. Finally, we also experience the Super 500 title after repeatedly failing," said Jonatan in a press conference at Istora Senayan, Jakarta, Sunday.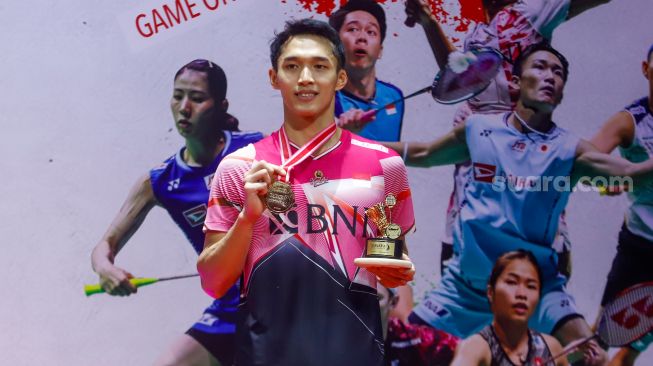 Indonesian men's singles badminton player Jonatan Christie poses with the men's singles champion medal at the 2023 Daihatsu Indonesia Masters badminton tournament at Istora Senayan, Jakarta, Sunday (29/1/2023). [Suara.com/Alfian Winanto]
So far, Jonatan has only collected titles from three tournaments at the BWF Super 300 level, namely the New Zealand Open and the 2019 Australian Open, and the 2022 Swiss Open. Outside the BWF tournament, Jonathan also won the 2018 Asian Games gold medal which was also secured from the same place as on the day this.
Also Read: Winning the 2023 Indonesia Masters, Leo/Daniel Continuing the Men's Doubles Champion Tradition at Istora Senayan
Jonatan's victory was obtained through the "All Indonesia Final" match against Chico Aura Dwi Wardoyo. Jonathan beat Chico in two straight games with a score of 21-15, 21-13 in 44 minutes. He couldn't hide his joy after breaking an egg to win his first BWF Super 500 tournament title.
He feels grateful not only to be able to fulfill his personal ambition of debuting a title from the BWF Super 500, but also to break the record for matches among Indonesians.
Jonatan's match against Chico was the first since 2008 or 15 years ago which brought together two men's singles badminton players in the final round at Istora Senayan. The last time this record was recorded by Simon Santoso and Sony Dwi Kuncoro in the same tournament.
"The moment (match) was really beautiful, after 15 years the 'all Indonesia final' has finally happened again. Maybe it's the fruit of our patience and calm. The result of the hard work of the coach and the men's singles team who always work hard every day," said Jonatan. (AMONG)
Also Read: Jokowi Congratulates Jonatan Christie and Leo/Daniel After Winning the 2023 Indonesia Masters