When the Samsung Galaxy Fold came out, I looked at it from a rather critical light. A mobile that brought problems with the hinge, with an excessively long exterior screen, and at a price of more than 2,000 euros. Samsung initiated a ban that Huawei has followed with its Mate XS, OPPO with its Find N, Xiaomi with its MIX Fold, and which will soon be joined by more manufacturers. It is not a game of one.
After more than six months using a foldable tablet, I am more than convinced that the future of telephony is here. I am also quite clear that the moment Apple launches its foldable, the few that remain to jump into the pool will do so, and that this moment will mean the democratization of this technology. Until then, there are two huge problems to solve. But let's start talking about the good.
In defense of the folding tablet
If the aspect ratio of the external screen is good, the folding tablets are almost perfect.
From my point of view, I think that, objectively, mobile phones that unfold as tablets make much more sense. The main problem here is that the most popular one, Samsung, has a rather elongated aspect ratio. This has been partially fixed in the Fold 4, but rivals like the OPPO Find N or the future Pixel Fold do much better: when they are folded, they are not far from a telephone to use.
A point that is not usually dealt with too much when talking about folding, is that are the only way to make phones stop growing. The obsession with having ever larger screens has led us to a new normality in which phones are usually 6.7 inches, a figure that a few years ago we would have associated with a small tablet.
Folding ones solve the problem quite efficiently. 5 "long" or 6 "short" inches when folded, 8 or more than 8 when unfolded. A quick format for answering emails, messages or browsing, and an expanded format for multitasking, gaming and more. The concept could not be better, despite how difficult it is to execute it correctly.
The "clamshell" type foldables solve the problem of the giant smartphone in your pocket. But, beyond this, they offer a much poorer final experience: small batteries, less space for components such as cameras, and small secondary screens of dubious use. They have their audience, and the sales of the Z Flip 3 prove it, so much so that OPPO will only bring its OPPO N2 Flip to Spain (although the reason why this model is chosen for the European strategy is not only this).
It all comes down to money and durability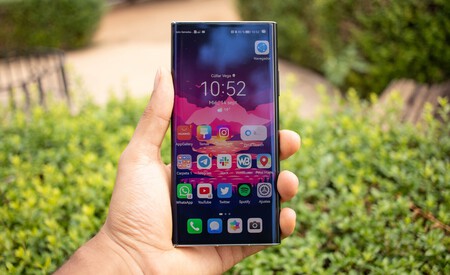 The foldable mobile is encountering a problem similar to that of the electric car: it is the technology of the future, but its final bill is absurdly high. Samsung is managing to tighten the margins and as of today a Samsung Galaxy Z Fold 4 is cheaper than the original Samsung Galaxy Z Fold. Despite this, 1,800 euros for a phone is not a realistic figure for the average pocket, not even within the highest range.
If folding clamshells are having a greater adoption, we find a simple explanation in that cost almost half. As of today, for less than 1,000 euros we can buy a Z Flip 4. On OPPO's part, they guaranteed us that the price of their N2 Flip would be "surprising". Making this concept is cheaper than making a phone with two screens and an even bigger hinge.
Mate XS 2 after a week of use
The second great handicap for access to a folding car is durability. When we buy high end we want a longer useful life, and the folding ones are born with an expiration date, both on the hinge and on the screen. After a certain number of folds, the hinge will give way, and the plastic that covers the folding panel will wear out. In our analysis of the Huawei Mate Xs2, a week of use was enough to notice wear in the central area of ​​the screen.
If the foldable wants to conquer the market, it has to solve the problem of durability, in addition to reducing its final bill by about 500 euros. A future that may seem distant, but given that, including inflation, the Galaxy Z Fold has reduced its final price by around 200 euros compared to the original model, it may not be that far away.