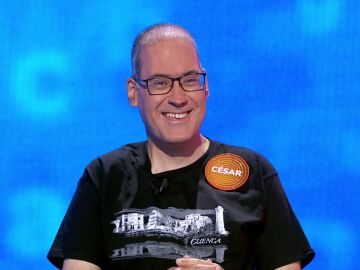 This week we are witnessing some unique moments on the set of 'Pasapalabra' thanks to the special Duel of Champions. This tournament brings together the most charismatic contestants and winners in the history of the program. Precisely, they are divided into two different groups: on one side the new champions, belonging to the last stage of the contest; to the other, the veteran champions of other stages.
Among the 'masters' is César Garrido. Many already know him, who were following the program back in 2012. This man from Cuenca, with several university degrees to his credit, achieved one of the jackpots in which the most money has been raised in the history of 'Pasapalabra', 1,524,000 euros .
Graduated in teaching, until that historical moment he had dedicated himself to teaching English. In addition, he graduated in Advertising and Public Relations. The funny thing is that he finally decided to dedicate himself to cultural journalism in a digital medium in his city. His life changed when he decided to compete in 'Pasapalabra'.
Will César be able to beat Pablo Díaz, his rival in the first phase of the Duel of Champions? You can't miss these 'Pasapalabra' specials!