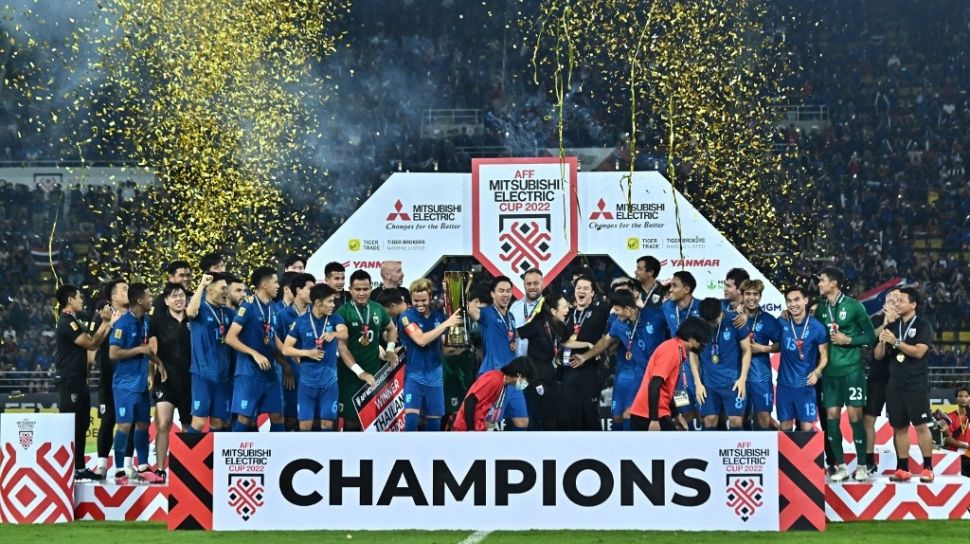 Suara.com – The expressions of the Thai national team players who are no less passionate despite winning the 2022 AFF Cup are in the spotlight on social media. Many think that this happened because they were tired of winning at the Southeast Asian level.
The Thai national team successfully won the 2022 AFF Cup championship trophy after frustrating Vietnam's resistance. They won 3-2 on aggregate after defeating The Golden Star Warriors in the second leg of the final, Monday (16/1/2023).
Before winning in the second leg, Thailand managed to hold Vietnam to a 2-2 draw in the first leg at My Dinh Stadium, Hanoi, last January 13.
This victory made Thailand successful in defending the title as well as collecting the seventh trophy in the AFF Cup.
Also Read: Park Hang-seo used to be arrogant, now miserable, apologizes to Vietnam fans: I think my abilities are lacking
Despite winning, the Thai players weren't too enthusiastic. There was no excessive celebration by Alexandre Polking's troops.
One of these moments was shared by the Twitter account @indosupporter on Monday (16/1/2023) evening WIB. Netizens also responded with various comments.
"It's over power at the Southeast Asian level. So it's only natural if you win, the expression is flat," wrote one netizen, @*****rdreams.
"The mentality of Thai players against fellow ASEAN teams is like high school kids playing ball against elementary school kids. Really enjoy it, win casually, even losing can still grin," wrote @*****8asrori.
Some netizens also said that the opposite might be shown by the Indonesian national team if they were able to win the AFF Cup. It is known that the Garuda squad has never won the championship trophy which has been held since 1996.
Also Read: Here are 4 interesting notes after Thailand silenced Vietnam and won the 2022 AFF Cup
"If the Indonesian National Team won, all the players and staff ran to the middle of the field. Going around the field while clapping," wrote @*****penjor.
"In a country that is underdeveloped, just entering the final, you have been invited to the State Palace," wrote @*****subhan_.