Synology announced the new Stynology DiskStation DS723+ with two compartmentsthe smallest scalable option among high-end all-in-one solutions for small offices and users.
With the versatile sistema operativo Synology DiskStation Manager (DSM)the DS723+ offers complete solutions to protect and manage data, easily collaborate on documents, access files remotely and monitor assets, all in a compact desktop format.
"The new drive offers users tremendous performance and has great capacity compared to its compact size," he said Michael Wang, Product Manager presso Synology. "With its minimal size, it will certainly be the preferred solution for those who need smaller storage but don't want to sacrifice the convenience of centralized storage and the ability to scale in the future."
Storage platform with expandable options
Ideal for professional teams, small businesses entering the world of centralized storage, or as an edge node in distributed deployments, the DS723+ is Scalable up to 7 drive bays with the possibility of add a DX517 expansion unit when more capacity is needed.
Users can also boost performance with the for option add 10GbE connectivity and M.2 NVMe SSD drives using the integrated PCIe slot, to enable fast caching or create additional all-flash storage pools.
Local storage with cloud integration
The DS723+ offers intuitive file management and sharing options with Synology Drive which unites thecross-platform file access with the privacy afforded by local storage. For remote teams and multi-site businesses, site-to-site file sync allows for content mirroring between Synology devices.
The features offered by Synology Hybrid Share allow users to combine the benefits of on-premise and the cloud by storing cold data in the cloud and keeping frequently used files in the local device cache for access at LAN speeds. You can find out more about file management here!
Backup hub for multi-layered data protection
I systems Windows e Linuxthe VM VMware/Hyper-V and accounts Microsoft 365/Google Workspace can be protected with a backup slow DS723+ using Active Backup Suite di Synology so as to keep critical or sensitive data safe from ransomware attacks and other cyber threats.
For an even greater level of protection, users can create point-in-time snapshot backups of the data stored on the NAS, which can then be securely stored on another server or in the cloud. For more information about data protection here.
Versatile and intuitive surveillance solution
With the support for over 8,300 ONVIF devices and approved IP camerasthe powerful solution Synology Surveillance Station VMS can transform the DS723+ into a complete video management system that store local videos privately.
A modern and customizable interface allows you to configure and manage quickly up to 40 cameras and even of configure floor plan or Google Maps/OpenStreetMap maps if you need to monitor larger rooms or in multiple buildings. Simple but effective failover between recording servers, management of multiple devices and the option to simultaneously record video to the cloud Synology C2 enhance resiliency and availability of important records.
Availability
Synology DS723+ is available worldwide starting fromJanuary 11th through Synology's network of resellers and partners.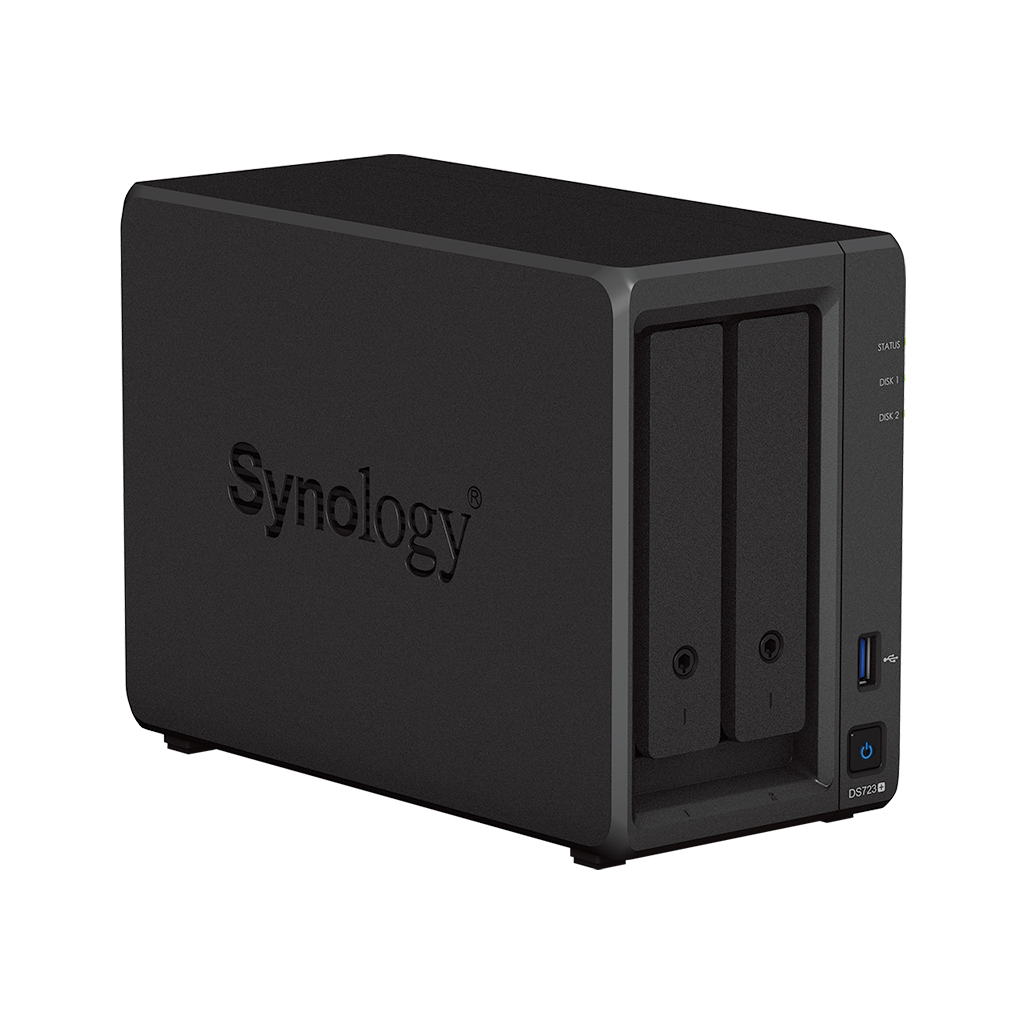 Discover more news on our website!