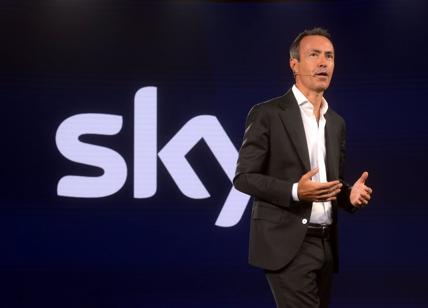 Andrea Duilio, CEO of Sky Italia
Sky, revenues down (-11.5%) and advertising down in 2022. But subscribers are growing
Subscribers are growing, but revenues are declining. Comcast Corporationthe media giant founded by the American billionaire Rupert Murdoch to which it belongs Skyhas published the accounts for the fourth quarter of 2022 and those for the full year of the pay tv.
In the fourth quarter of 2022, Sky recorded revenues down 13% to 4.4 billion dollars against the over 5 billion "taken home" in 2021. If we do not take into account the impact of currency changes, the turnover of the European broadcaster however, it is in line with last year. At the level of subscribers, however, the number of subscriptions increased by 129,000 units in the fourth quarter to 23.1 million.
In the entire 12-month cycle, on the other hand, the revenues of Sky fell by 11.5% to 17.9 billion against the 20.2 billion collected in 2021. A drop which, however, stops at 1.2% if currency exchanges are not considered. Subscribers, on the other hand, are increased by 88,000 units over the previous year.
L'EBITDA Adjusted is growing to over $2.5 billion ($2.36 billion in the prior year). Direct consumer revenues were $3.5 billion, in line with 2021, reflecting increases in the UK and offset by lower revenues in Germany and Italy.
Advertising revenue decreased 9.6% to $564 million, primarily reflecting lower UK revenue, including the impact of broadcast programming World Cup FIFA. Content revenues increased 6.5% to $304 million.
Subscribe to the newsletter