A lot has happened since we first met platforms like Instagram, WhatsApp, Airbnb, Uber or Spotify. all of them are now giantsbut logically they were not born as such.
In fact, surely many of you will agree with me: what we thought of these platforms at the beginning, when they started, is quite different from what we think today.
Reddit has been a unique witness to the birth of these platforms and services, and Olivia Moore, partner at Andreseen Horowitz, recently shared a unique thread on Twitter in which he grouped what was said on reddit of those platforms when they were barely known.
I love tracing consumer apps that are now huge back to the very first Reddit post about them.

It's an unvarnished look at the original "wedge" – and the level of doubt every new product is up against.

Some gems ⬇️

— Olivia Moore (@omooretweets) January 19, 2023
Instagram
The Instagram appearance on October 6, 2010 was quickly commented on Reddit. There a user asked what apps he could take advantage of on his brand new iPod Touch 4G and one user replied "Instagram is a new social photo app released just a day ago. It has some nice filters and its social aspect could be good." In Applesfera and in Genbeta they also talked about it one day after its release.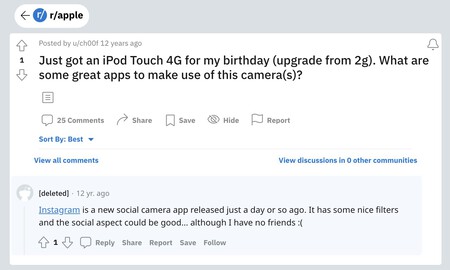 Uber
Uber launched in March 2009, but it seems to have taken a lot longer for it to start garnering buzz on networks like Reddit. One of the first located there is from October 2010, when someone asked for tips to visit San Francisco and someone recommended the taxi to get around because the Uver "are a little more expensive."
WhatsApp
It is also interesting to see how some users began to get to know WhatsApp by using it as an alternative to one of the dominant mobile messaging services of the time, BlackBerry Messenger.
A user who wanted to change his BlackBerry ("I hate it") said, he considered the change and mentioned that he had seen an alternative application —they talked about it in Xataka Móvil at that time— that could fulfill that function in the hypothetical iPhone that was leaving to buy. It turned out that WhatsApp ended up being that alternative for many more people.
Spotify
With Spotify, the platform that revolutionized the way we listen to music, something similar also happened. Someone on the /r/Music subreddit was looking for a classical music song, and there a user suggested he try a new service called Spotify "It probably tells you it's not available in your country." The reason: Spotify took years to get launched in the United States and that message is from October 18, 2008, just 10 days after it was launched in some European countries.
In Genbeta they talked about him in January 2009, for example.
Twitch
Twitch, a now very trendy service, is older than some probably realize. It was launched as a "spin off" of Justin.tv in June 2011. That's exactly what a user on Reddit commented, and when asked if that was better, he replied "Not better, not worse, a bit halfway EMO :)" . In the end, that service ended up "eating" Justin.tv and, later, being acquired by Amazon.
There are more examples and of course keep track of those services and what we thought of them when we discovered them it's amazing. Those that have survived have inevitably changed to keep up with the times, but it is singular to take a look at those initial comments and insights.
Image: Priscilla Du Preez