Suara.com – Who doesn't like ice cream? Various flavors and various textures can be created from the right recipe and patience in making it. This time, we will discuss a little about coconut milk ice cream recipes that will remind you of your childhood snacks.
This delicious and memorable ice cream is not a difficult food to make. The materials needed are also not too difficult to find.
Coconut Milk Ice Cream Recipe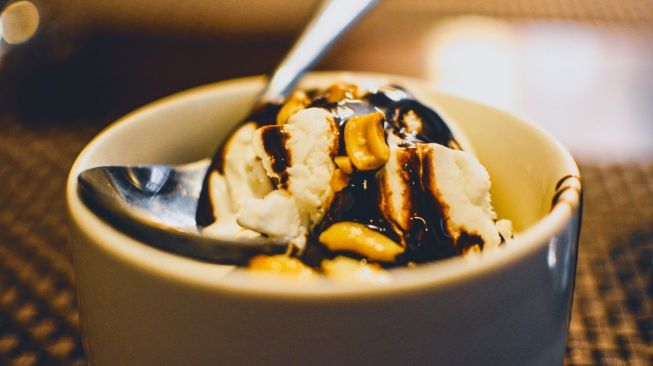 Ice cream illustration. (Pexels/Sourav Mishra)
Here are the ingredients needed:
Also Read: Simple Fried Rice Recipes in the Morning that You Can Make While Running
500 ml medium thick coconut milk 150 grams of granulated sugar, or according to taste 4 tablespoons sweetened condensed milk 2 pandan leaves 1.5 tablespoons cornstarch 1/2 tablespoons SP
How to make coconut milk ice cream
First, dissolve the cornstarch with a little water, then set aside. Add all the other ingredients to the coconut milk that has been prepared. Stir well with a whisk or dough whisk. Cook the coconut milk over medium heat while stirring so that the coconut milk doesn't break. If it's starting to get hot, pour in the cornstarch solution, stir again until smooth and thickens. earlier, then pour the mixture into a container or mold Leave it until it solidifies and doesn't feel hot Close and put it in your refrigerator freezer for about 5 hours Take it out and crush it to taste with a spoon Add SP, mix until smooth and fluffy white Pour again into another container, then cover and store in the freezer until frozen. In no time, you'll be able to enjoy dung dung ice cream that tastes delicious and fresh.
How to make it quite easy, right? You can combine various ingredients for the ice cream flavor, so that it gives a different sensation. The level of sweetness in ice cream can also be adjusted according to the sugar content given.
Additional Toppings
After it's done, you can easily add the coconut milk ice cream on top with a variety of toppings. Chocochips, sprinkles of meses, grated cheese, jelly, or other ingredients can make the coconut milk ice cream taste even more delicious.
That's a coconut milk ice cream recipe that you can try at home. Practical, easy, and full of memories, right?
Also Read: Recipes and Easy Ways to Make Chocolate Churros a la Chef Devina Hermawan, Really Delicious to Enjoy with the Family
Contributors : I Made Rendika Ardian