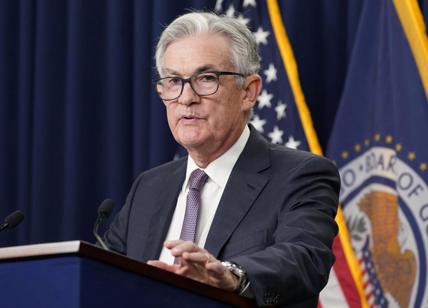 Jerome Powell, Chairman of the United States Federal Reserve
Tassi, Powell: "The Fed's independence from political influence is fundamental to its ability to fight inflation"
"It is essential that we stick to our statute objectives, and resist the temptation to broaden our field of action in the face of other important social problems", said the president of the Fed Jay Powell speaking at a Swedish central bank symposium in Stockholm, in a clear stance against the pressures for a softer attitude in the fight against inflation fought with rate hikes.
"Price stability is the foundation of a healthy economy and provides the public with immeasurable benefits over time, he said, but he added that "the restoration of price stability when inflation is high it may require measures that are not popular in the short term, as we raise interest rates to slow the economy."
For the governor "the independence of the Fed from political influence is fundamental for its ability to fight inflation", because it is the result of a institutional agreement important and widely argued that it has served the American public well," he explains. "The independence of monetary policy lies in the benefits of insulating monetary policy decisions from short-term political considerations," he adds. direct political control over our decisions – argues Powell – allows us to take the necessary measures without considering short-term political factors. I believe that the advantages of an independent monetary policy in the US context are well understood and widely accepted". elected by the government. Grants of independence to agencies should be extremely rare, explicit, strictly circumscribed, and limited to those matters that clearly warrant protection from short-term political considerations."
Fed, Powell: "We are not and will not be climate policymakers"
"We are not, and will not be, a 'climate policymaker'. This was stated by Fed Chairman Jerome Powell, in his speech at the International Symposium organized by the Riksbank in Stockholm. The Fed, he adds, "has limited but important responsibilities , regarding climate-related financial risks. The public reasonably expects supervisors to require banks to understand and appropriately manage their material risks, including financial risks related to climate change. However, in the absence of explicit Congressional legislation, it would be inappropriate for us to use our monetary policy or supervisory tools to promote a greener economy or to achieve other climate-based goals."
"Today," Powell continues, "some analysts are questioning whether incorporating perceived risks associated with climate change into banking supervision is appropriate, wise, and consistent with our existing mandates. Addressing climate change appears to require policies that would have significant distributional and other type on companies, industries, regions and nations. Decisions on policies to directly address climate change should be made by the elected branches of government and therefore reflect the will of the public expressed through elections".
Subscribe to the newsletter