With one million layoffs and rising inflation, it has emerged that even consumers aren't interested in spending a lot on a new smartphone. L'International Data Corporation released the latest data on worldwide smartphone sales in the fourth quarter of 2022, and it's a disaster. Shipments decreased by 18.3% year-over-year, posting the largest decline ever in a single quarter and dragging the year to a drop of 11.3%. With combined shipments of 1.21 billion phones for the current year, this is the lowest annual shipment total since 2013.
In the top five of Q4 2022 – in order: Apple, Samsung, Xiaomi, Oppo and Vivo – Apple was obviously the least affected, but not by much. Apple reported a 14.9% year-over-year decline for Q4 2022, Samsung was down 15.6%, and the big loser, Xiaomi, was down 26.5%. For the current year, Samsung still ranks first with 21.6% market share, Apple second with 18.8% and Xiaomi third with 12.7%.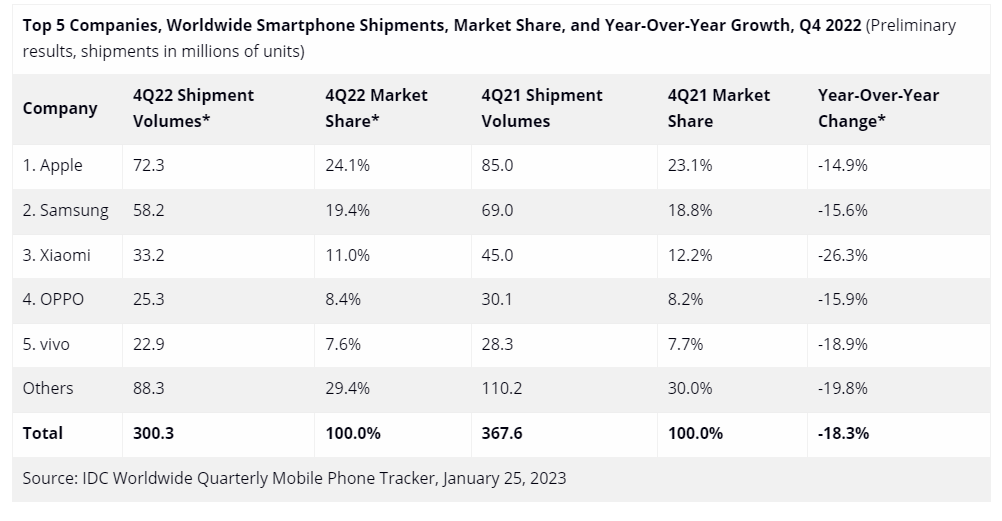 L'IDC also notes that consumers are holding on to smartphones longer than ever before, with "update rates" or the time before people buy a new phone "exceeding 40 months in most major markets". The report concludes that 2023 is shaping up to be a year of caution: vendors will rethink their device portfolio and channels will think twice before grabbing excess inventory. However, on a positive note, consumers could find even more generous trade-in offers and promotions through 2023, as the market looks for new ways to push upgrades and sell more devices, especially high-end models.
To continue reading other tech news you can click who!