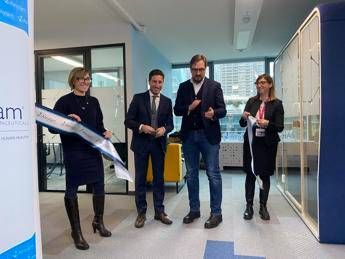 "Today we inaugurate the new headquarters in Italy, to best carry out our mission at the service of patients affected by rare diseases and their caregivers, facilitating access to innovative therapies developed by Alnylam research". Domenico Guajana, Country Manager Italy said of Alnylam, an American biotech in Italy since 2016, on the occasion of the inauguration of the new Italian headquarters in Milan in the Gioia 26 complex. "Alnylam deals with the research and development and marketing of some drugs – recalled Guajana – specifically, we deal of RNA interference, a technology that gives the opportunity to produce new solutions to different types of diseases".
During the inauguration, the 'Skills academy' project was presented to the press, born from the long-term partnership with Soleterre Onlus, an important reality in the third sector, with which the aim is to focus on the enhancement and development of technical skills and transversal, of persons entitled to protection, in order to promote rapid and lasting entry into the world of work.
"We started on this path – added Guajana – because Alnylam has a rich pipeline that will be able to provide solutions to patients in the near future. We have found some partnerships and collaborations in the Lombardy region, both from the point of view of the development of our business and for the development of our attention to the context and the territory in which we work. An example of this is the partnership with Soleterre Onlus, a third sector reality with which we are collaborating on a long-term project", concluded the manager.