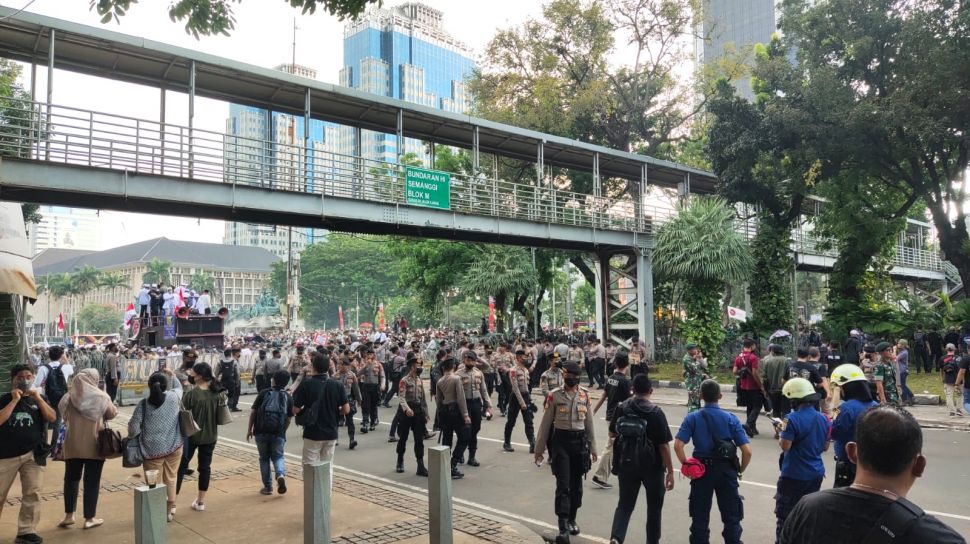 Suara.com – Police officers deployed 200 personnel to guard a demonstration held by the 212 Alumni Association (PA) in front of the Swedish Embassy (Embassy) in order to protest the burning of the Koran by Rasmus Paludan.
"We have provided many personnel. There are 200 police personnel," said South Jakarta Metro Police Public Relations Section Head, AKP Nurma Dewi when confirmed, Monday (1/30/2023).
Nurma said that so far the police had not prepared traffic flow engineering (traffic) around the location. Traffic engineering will be situational.
"For the masses who carry out demonstrations, demonstrations are fine, not anarchic, that's clear, just follow the existing procedures," said Nurma.
Also Read: Anticipating Intruders, Hundreds of Police Guard the PA 212 Demonstration on Protests against Burning the Koran at the Swedish Embassy
For information, PA 212 held a demonstration at the Swedish Embassy, ​​South Jakarta on Monday (30/1/2023). They opposed the burning of the Koran by Sweden's far-right political figure, Rasmus Paludan.
This was known based on posters of the PA 212 coverage law circulating among journalists.
"Defend the Koran 301 Monday 30 January 2023 at 13.00 WIB, the gathering point went directly to the Swedish Embassy," the law was written as quoted by Suara.com on Monday (30/1/2023).
The law also contains a number of sentences with a tone of condemnation.
"Sweden and the Netherlands are religious blasphemers, it is not appropriate for their embassies to be in Indonesia. Indonesia does not need Sweden and the Netherlands. Drive the Swedish and Dutch embassies out of Indonesia," they wrote.
Also Read: Aremania's Row of Claims to Arema FC, Ends Anarchist Demonstration
As is well known, the burning of the Koran was carried out by the Danish-Swedish politician, Rasmus Paludan, who is the head of the Right-wing Political Party Satrm Kurs.
Rasmus burned the Koran on Saturday (21/1/2023) during his demonstration in front of the Turkish Embassy.
Intermittently after that incident, the head of the anti-Islamic group Pegida, Edwin Wagensveld from the Netherlands, also took an intolerance. He tore up a mushaf containing verses from the Koran in the city of The Hague, Netherlands on Sunday (23/1/2023).