Garp will soon face Blackbeard and his crew alone.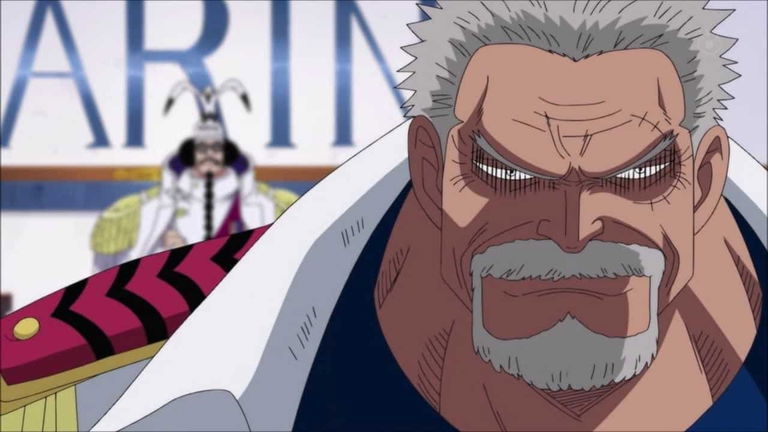 Garp is Luffy's grandfather and a Vice Admiral in the Navy.
join the conversation
By now many already know that Monkey D. Garp. a vice admiral in the World Government Navy, it is not only one of the most powerful characters in the world of One Piece and that has earned him to be in addition to the most feared by many pirates, but also, this character is neither more nor less than Luffy's grandfather, the protagonist of the manga and anime created by Eiichiro Oda .
Under this same premise, it must be said that although the character has this fame, the truth is that there have been very few occasions in which we have been able to see it in actionleading this to the fact that only outlines of his powers have been seen after the events of the Water Seven saga and in the Marineford arc, thus a future confrontation against Blackbeard could be key to seeing his character's fame be in accordance with his force.
Garp could have become a Fleet Admiral due to his enormous power
Be that as it may, the truth is that Oda has come to put Garp in a pretty good situation, since compares it in strength with Gol D. Roger, the previous King of the Pirates and with whom he faced several times in the past in battles that almost ended with both deaths before the enormous power displayed. In the same way, he has also been compared to Whitebeard, who was known before his death at Marineford as the strongest man in the world. And it is not for less, since in his youth it is known that Garp faced off against immensely powerful pirates.
Be that as it may, with a large number of feats behind him, which include Defeat Rocks D. Xebec in Roger's companyas well as defeating other pirates such as Shiki, Sengoku and Don Chinjao (being remarkable the latter who managed to defeat him with a single blow), many are those who have been surprised that Garp remain Vice Admiral, especially since with his abilities he would have become not only an Admiral, but could even have become a Fleet Admiral. However, a series of responsibilities prevented this promotion.
Monkey D. Garp is one of the most powerful despite not being the user of a Devil Fruit
Under this same premise it must be said that Garp is still very strong despite his old age.this being something that is helped by the fact that he is not as old as Rayleigh in the same way that he lacks any disease that could reduce his strength, while he has never shown any type of weakening in his abilities over the years. years.
Be that as it may, the truth is that one of the greatest virtues of this character can be seen in the fact that he's not even a user of any devil fruit, so all his powers come from other sources. In fact, Garp also has immense Haki, which it is quite probable that we will be able to see in the next chapters of the manga and anime once the encounter with Blackbeard takes place, which, let's remember, is one of the Four Emperors of the Sea together with Buggy, Luffy and Shanks.
In this way, we can also confirm or not if Garp is or is not a Conqueror Haki user, being this something that would not be at all a surprise, since it would explain many of his achievements in the past. In any case, this will be something that we will have to see soon, since although Blackbeard has shown that he is not unstoppable, the truth is that Garp will have to face his entire crewbeing these Devil Fruit users very powerful.
join the conversation