We tell you about the American Dreams sidecar that we awarded at the MBE magazine awards, exhibited at our stand and that you can find for sale on our website!
January 31, 2023
What's better than a sidecar for traveling with the whole family? To American Dreams they did it their way and the result is this Heritage Green Low Sidecar, a 1992 Harley-Davidson FLSTC Heritage Classic based creation that won our recognition at the Motor Bike Expo 2023 magazine awards. ?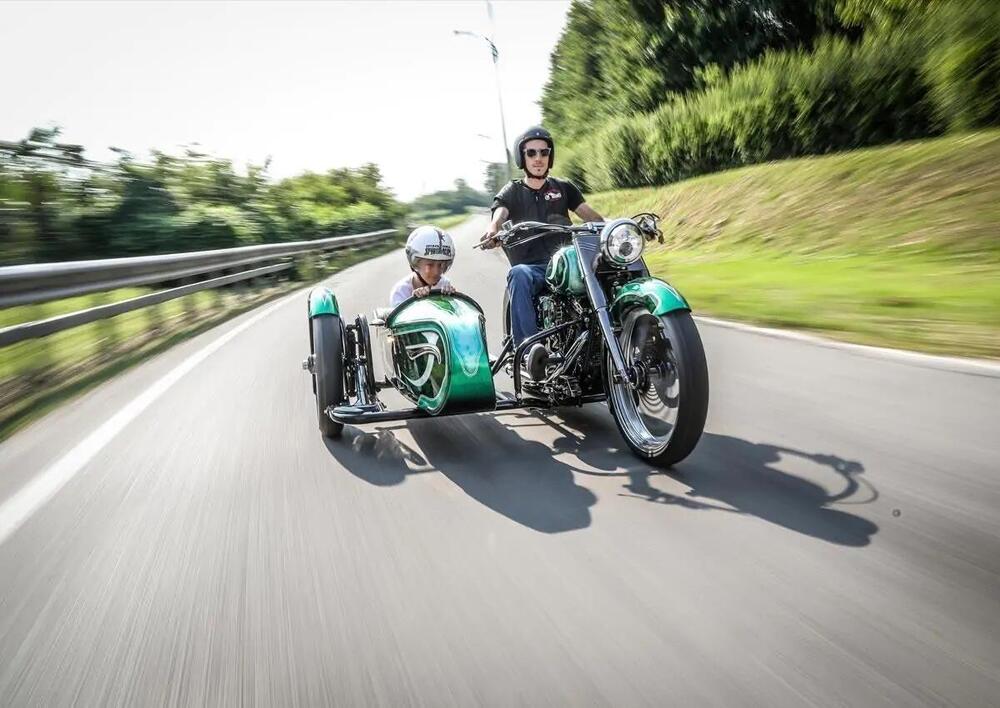 As often happens, this project too was born a bit for fun: grandfather Aldo, father Angelo and little Gabriel got together with the desire to ride a motorbike. American Dreams is one of the best known and most awarded names in Italy when it comes to custom and certainly could not be satisfied with a very common sidecar and have applied their art to the game. The result is this Heritage Green Low Sidecar, a long name that sums up all the main features of the project very well. The heritage is certainly that typical of American twins but it is also that of the Lanciano family. Aldo started his customizer business in Calabria in the 90s, at the beginning of what was a very prolific period for the Italian custom culture. The first projects lead him to travel all over Italy until he meets Mauro Valli from Lissone, with whom he starts a working synergy that leads him to move right to the Brianza town. The first showroom was opened by Aldo with his son Angelo in 2012 and today it is an area of ​​1,500 square meters between exhibition, workshop and laboratory. Here the Lancianos continue the creation of customized Harley-Davidsons and develop their own style that brought them to the fore in the custom scene. For more than fifteen years, Aldo has also moved his business to the USA where he goes in search of trends, spare parts and vehicles and above all where he decided to move taking advantage of the temperatures of Florida and letting his sons Angelo carry on the family business in Italy and Andrew.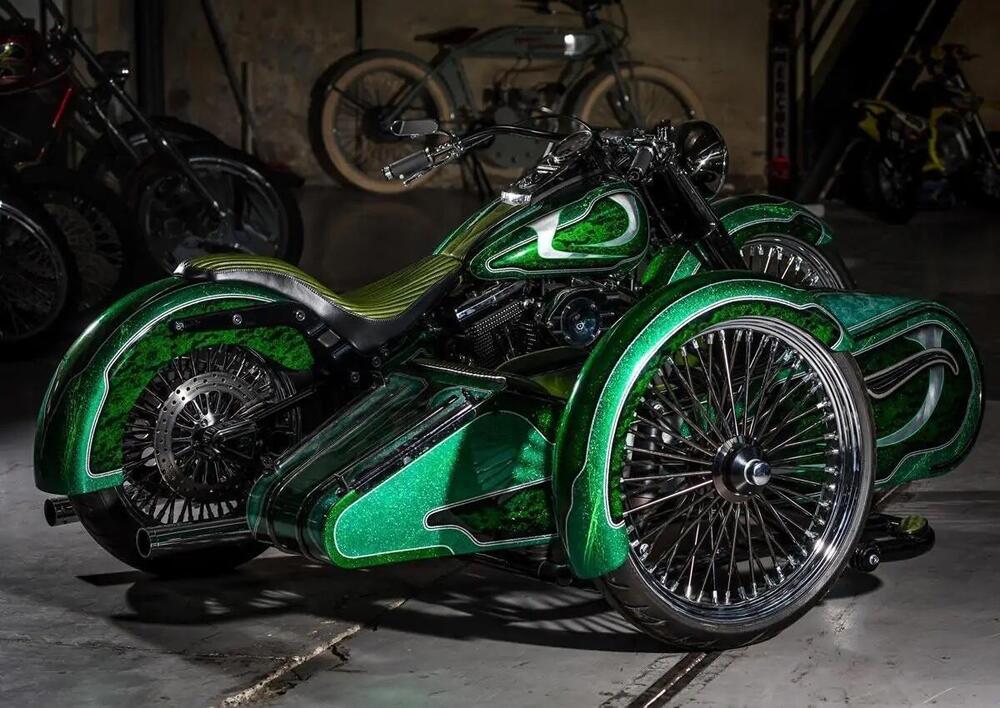 And together with Angelo he thought of the project of this sidecar with which he could whiz along with his grandson Gabriel. The elongated fork embraces a 23″ wheel, same size as the side one, while the drive one is 18″. The suspensions are air and the 1340 engine was diamond cut and painted black and chrome. The line of this Heritage Green Low Sidecar can only be low and curvy with a slim Stoye carriage that makes the large side wheel stand out even more, framed by a close-fitting fender. The attention to the smallest detail of this sidecar is the maniacal one to which American Dreams has accustomed us and like all the creations of the Lissone atelier you can find it here for sale in our classifieds section.