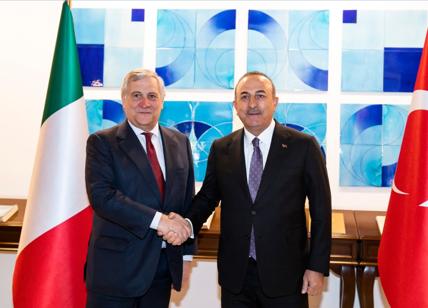 Antonio Tajani and Turkish Foreign Minister Mevlüt Çavuşoğlu
Migrants, the Central Mediterranean route (Italy) recorded 102,529 arrivals with an increase of 51% compared to 2021
In 2022, it was around 330,000 irregular arrivals of migrants in the European Unionaccording to the Frontex data. It is the highest number since 2016, with an increase of 64% compared to 2021. In particular, the central Mediterranean route, the one involving Italy, recorded 102,529 arrivals with an increase of 51% compared to 2021. The route of the Western Balkans accounted for almost half of the total.
Egyptians, Tunisians and Bengalis were the nationalities with the most arrivals. Syrians, Afghans and Tunisians together accounted for 47% of detections in 2022. Women accounted for less than one in ten of detections, while the share of reported minors dropped slightly to around 9% of all detections. Separately, almost 13 million Ukrainian refugees they were counted upon entering the EU's external borders from Ukraine and Moldova between 24 February 2022 and the end of the year, which are not included in these figures. During the same period, 10 million citizens of Ukraine were reported to exit the same stretches of border.
On Wednesday 11 January, Prime Minister Meloni met with Deputy Prime Ministers Matteo Salvini and Antonio Tajani and the Minister of the Interior, Matteo Piantedosi, at Palazzo Chigi. You discussed with them a strategy to slow down the flows to Italy, which concerns agreements with the countries of departure. Because of this Tajani's trips to Turkey were organized today and then to Tunisia and Libya.
Today, Foreign Minister Antonio Tajani flew to Ankara his Turkish counterpart Mevlut Cavusoglu. He wrote on Twitter: "I thank Mevlut Cavusoglu for today's meeting. The fight against illegal immigration is a strategic priority of our governments, also to stabilize Libya and the Balkans. We are working to strengthen our economic ties, including with business forums in Istanbul".
"Italy and Turkey share a common vision on many security-related issues and are strongly committed to promoting international and regional stability, including within NATO, in relation to a series of regional crises," Tajani said. in an interview with the Turkish agency Anadolu.
"We share common points of view on migration management in the Mediterranean area and we stand ready to work together more closely to combat terrorism in all its forms and manifestations, human trafficking and stop illegal departures".
He continued: "Based on long-standing cultural ties and a common Mediterranean identity, relations between Italy and Turkey have consolidated over time thanks to a fruitful political dialogue and ever closer economic-commercial relations, as well as lively exchanges between the respective civil societies. Bilateral trade has reached record values ​​in the last two years (we expect $25 billion this year). With Turkey among our main economic and trading partners, we aim to reach $30 billion in bilateral trade over the next few years. Thanks to the presence of over 1,500 Italian companies in the country, we must work to seize the opportunities offered by the shortening of supply chains around the world. Last but not least, our cultural cooperation has gained momentum at full speed after the pandemic, with the highest number of Turkish students in Italian universities, thanks to cooperation agreements also within the EU".
On the subject of fight against human traffickingInterior Minister Piantedosi will be in Turkey on January 16 to meet his Turkish counterpart.
Subscribe to the newsletter