Suara.com – Thailand's success in winning the 2022 AFF Cup brought Sarach Yooyen's name as one of the players with the most trophies at this biennial event. The number of trophies they have might make Indonesian National Team players feel inferior.
The mainstay midfielder for the Thai national team, Sarach Yooyen, has now confirmed his name as a player who has successfully won four titles with the Thai national team in the 2022 AFF Cup.
This 30-year-old midfielder certainly felt the four AFF Cup titles when he was young until he entered the senior level, at least in the span of eight years.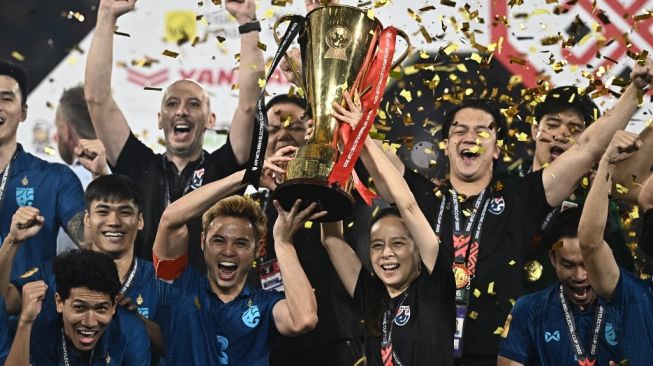 The Thai national team won the 2022 AFF Cup. (Lillian SUWANRUMPHA / AFP)
This is because he was already part of the War Elephant squad that successfully won the 2014 edition of the AFF Cup. At that time, he was only 22 years old.
Also Read: Evaluation Results of Shin Tae-yong Reported to PSSI Chairman Iwan Bule
In the 2014 AFF Cup final, Sarach Yooyen and friends succeeded in defeating Malaysia in the final with an aggregate of 4-3.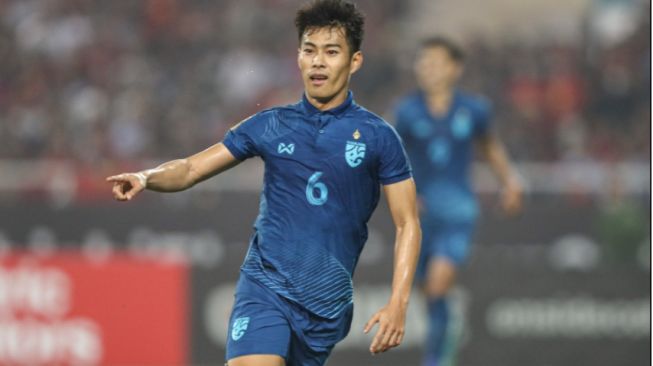 Thai player Sarach Yooyen celebrates after scoring against Vietnam in the first leg of the AFF Cup final (affmitsubishielectriccup.com)
In the next edition, Sarach Yooyen also managed to lead the Thai national team to the championship podium after overthrowing the Indonesian national team in the final.
In the 2016 AFF Cup final, Thailand succeeded in defeating Boaz Solossa and friends with an aggregate of 3-2, having previously played 1-2 in the first leg and 2-0 in the second leg.
The Thai national team did not win the championship in the 2018 edition, but they proved their prowess again in the following two years.
This is because Alexandre Polking's team managed to win the title after tackling the Indonesian national team with a landslide score of 2-6 in the final which took place in Singapore.
Also Read: 2 Former Indonesian National Team Players Listed as PSSI Exco Candidates for the 2023 KLB, Who Are They?
In the first leg alone, Sarach Yooyen and friends appeared superior with a 4-0 win, then only drew 2-2 in the second leg.