Sumatra Voice – The news that the Coordinating Minister for Politics, Law and Security (Menkopolhukam) Mahfud MD resigned from the Advanced Indonesia Cabinet due to President Joko Widodo's (Jokowi) worsening policies, circulated on social media.
This information was shared and uploaded by the Political Agenda YouTube channel on Monday (09/01/2023).
"MAHFUD MD RESIGNS FROM THE INDONESIAN CABINET FORWARD !! NEWS UPDATE – POLITICAL AGENDA" was the title of the uploaded video.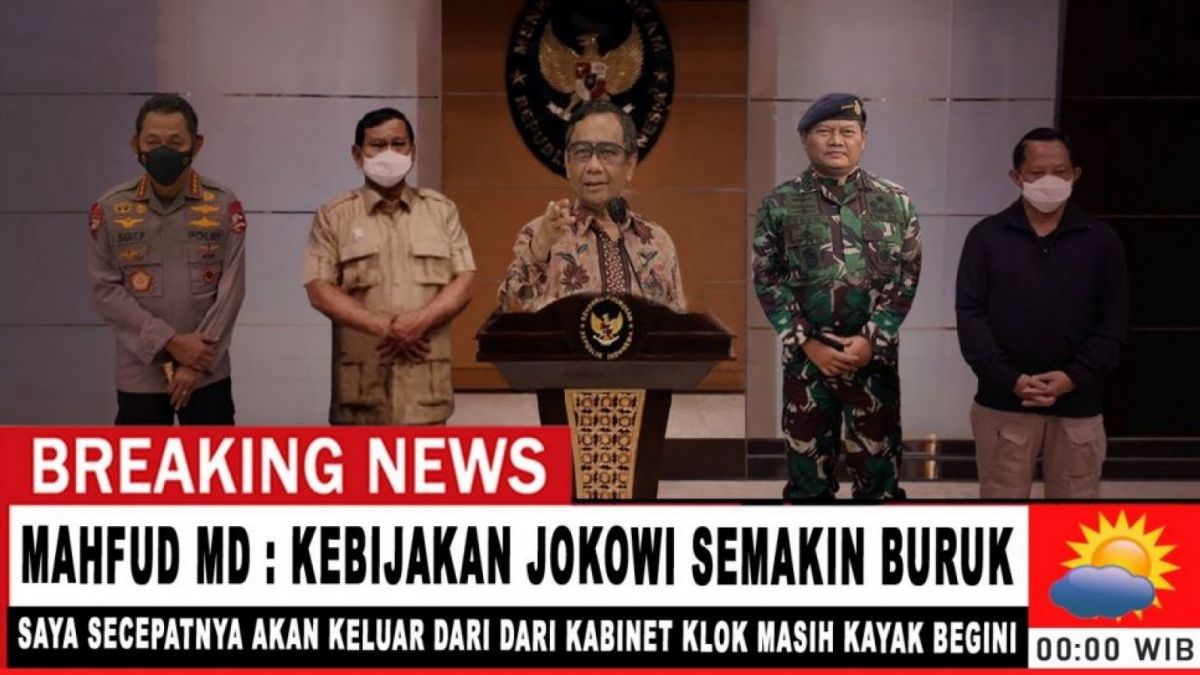 Mahfud MD Resigns from Cabinet because Jokowi's Policies are Worse, Really? (source: YouTube/Political Agenda)
"MAHFUD MD: JOKOWI'S POLICY IS GETTING BAD I WILL IMMEDIATELY GET OUT OF THE CABINET WHEN IT'S STILL LIKE THIS," wrote the caption in the video thumbnail.
Also Read: Being Ridiculed Stupidly By Mahfud MD, Rizal Ramli Laughs: He Panic Because Defending What Is Incorrect
Is this claim true?
Based on the search results of the Suara.com Fact Check, the claim that Mahfud MD resigned from the Indonesia Onward Cabinet because Jokowi's policies were getting worse is wrong.
After the video has been watched to completion, there is no information or news from the claims written by the YouTube channel.
In fact, the uploaded video discusses the response of political observer Rocky Gerung to Mahfud MD's statement.
Mahfud MD himself made a statement in 2012 that said an 'angel' if he enters the system, will turn into a 'demon'.
Also Read: Suspicious Video of Leaked Ferdy Sambo Verdict Terror Attempt Judge, Mahfud MD: I Experience Often!
In the previous report, Rocky Gerung said that Mahfud MD was still like an angel, but he justified the devil's actions.
This attitude is related to Mahfud MD who is considered to support Jokowi's decision to sign a Government Regulation in Lieu of Job Creation (Perppu) which is still being debated today.
CONCLUSION
Based on the explanation above, the news that Mahfud MD has resigned from the cabinet due to Jokowi's bad policies is false.
Information from uploaded videos on the YouTube channel is included in the hoax category.
Editor's Note:
This article is part of the Suara.com Fact Check content. Make it as accurate as possible with the clearest possible source, but it doesn't have to be a reference to the real truth (because there is still potential for misinformation). More details about the Fact Check content can be read on this page. Readers (public) are also welcome to provide comments/criticism, either through the comments column in each related content, contacting Suara.com Editors, or submitting issues/claims that need to be verified or fact checked via email (email protected)
Loading…