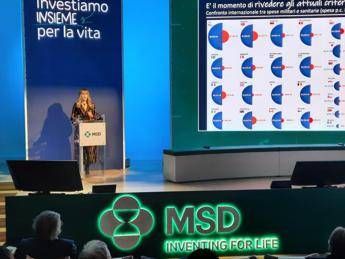 "The establishment of an "ad hoc" fund for the purchase of innovative drugs represented an important signal of attention towards drugs to which the NHS gives priority in access due to the nature of the target (relevant pathology for which there are no valid therapeutic alternatives) and/or for the important added therapeutic value". So Nicoletta Luppi, president and CEO of Msd Italia, in her speech on the occasion of the fifth edition of the "Inventing for Life Health Summit" this year dedicated to the theme: "Investing for Life: health matters", organized by Msd Italia today in Rome at the Ara Pacis Auditorium.
"Thanks to the Fund for Innovative Medicines – recalls Luppi – Italian patients not only had access to a number of new oncological drugs higher than the EU average, but also more quickly; Italy is the only European country in which, in the face of an increase in the direct cost linked to oncological medicines, the overall expenditure for assistance to oncological patients has decreased". "Despite the evidence of these results – highlights Luppi – today not all the resources available in the Fund are used. It would therefore be desirable to also include drugs with conditional innovation in the Fund, so that all the innovation can be made available to the Regions and patients. A regulatory intervention of this type – required among other things by various amendments (majority and opposition) rejected in the legislative process that led to the 2023 Budget Law – would be totally sustainable by the current governance system since the Fund is already capacity without further investment and would also help partially mitigate the heavy payback burden".
In "this fragile, unstable, interconnected world, a great Pact of responsibility is required of all the actors, be they institutions, the scientific community, regulatory authorities, citizens and patients. As MSD we are ready – with passion and dedication, faithful to our commitment for over 130 years – to do our part to invent for life and build together a future in which no one is left behind ", he concludes.