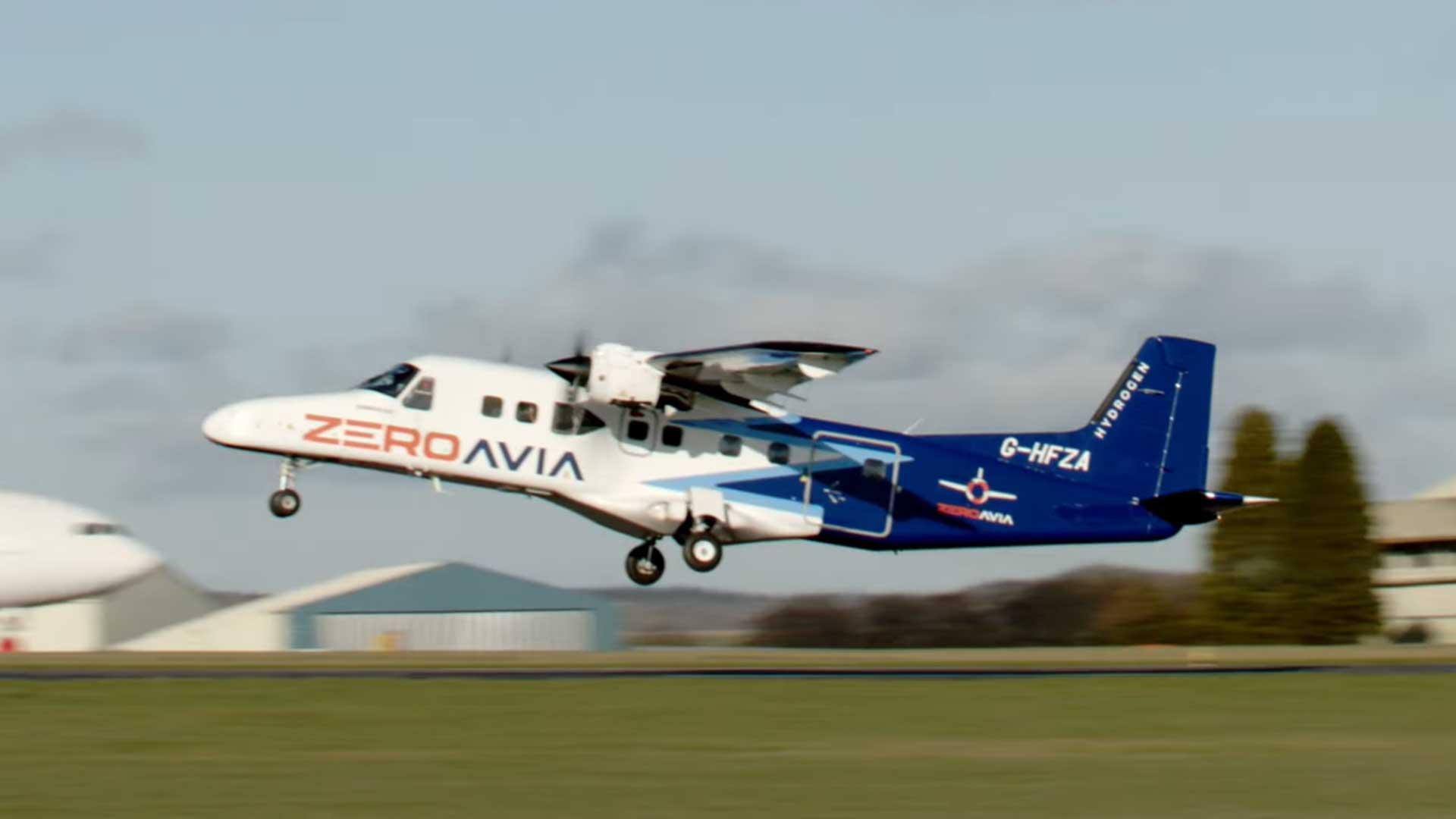 The route that is flown most often is a party flight. Not Düsseldorf to Mallorca or Eindhoven to Ibiza, but a flight within South Korea. According to Tripadvisor, there are about 119 daily flights from Seoul and to the party island of Jeju. And those people have to go back too. All those short flights are not great for our globe. Nor the long one, by the way.
Just like in the automotive industry, there are several approaches to a sustainable future. Stellantis is putting money into an electric plane project and Rolls-Royce is building a giant hydrogen engine together with EasyJet. Other companies think that in the future we will not fly, but take a train that reaches 1,000 km/h.
One hydrogen engine
ZeroAvia thinks that hydrogen will play a role in the future. According to the company, this would be the largest hydrogen aircraft in the world. ZeroAvia has replaced one of the engines on a Dornier 228 with its own hydrogen engine. The aircraft converts hydrogen into electricity (just like a Toyota Mirai) to power the propeller electrically. The second engine was still an old-fashioned turboprop.
This week, the largest hydrogen aircraft in the world made its first short test flight. After ten minutes the box is back on the asphalt, but that was exactly the intention. ZeroAvia speaks of a successful first test. The flight ensures that this is the largest aircraft ever to take to the air on hydrogen.
More hydrogen-powered aircraft are arriving
This aircraft is part of the HyFlyer II project, which is funded by the British government. The aim of the project is to make small passenger aircraft greener. ZeroAvia wants to put the first aircraft into service in 2025. The hydrogen aircraft must then reach a distance of more than 550 kilometres. After this, more hydrogen planes should follow quickly.
In 2026, ZeroAvia wants to sell an aircraft that can carry up to 80 people and fly at least 1,850 kilometers in a row. The ultimate goal is planned for 2040. Then there must be room for more than 200 passengers and the aircraft must travel more than 9,260 kilometers. This would allow him to fly directly from Schiphol to the Korean party island of Jeju.