Illustration of a crying baby. (Pixabay/StockSnap)
Himedik.com – President Jokowi outspokenly mentioned Posyandu and BKKBN (National Population and Family Planning Agency) cadres regarding the viral phenomenon of 7-month-old babies being given coffee milk sachets, which became a debate on social media Twitter.
According to Jokowi, instead of the police being quicker to the mother who gave the baby coffee milk sachets, the Posyandu cadres from the BKKN should have visited the mother first.
This is because Posyandu services play an important role in socializing and educating Indonesian families on health and nutrition, due to their close access to residents.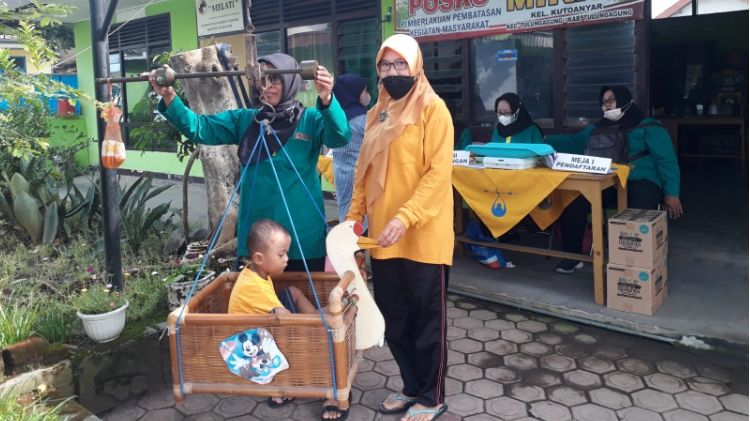 Posyandu activities (Twitter/@KKutoanyar)
"I read that the police met the parents of the babies, but the posyandu cadres, the BKKBN cadres who came there, should have been right, because the speed of the National Police Chief's reaction was quicker than the cadres," said Jokowi in the National Working Meeting on Stunting Reduction on YouTube BKKN Official, Wednesday (25/1 /2023).
According to Jokowi, babies aged 7 months must still be given breast milk by their mothers plus complementary foods with balanced nutrition, the majority of which are high in animal protein such as chicken liver, meat, eggs, fish and chicken meat.
Not only that, the texture of MPASI (complementary food for ASI) also needs attention, because the digestive organs and other vital organs in the baby's body do not function optimally.
"Be careful, that children, kidneys, stomach, heart are not yet strong," Jokowi added.
Meanwhile, Jokowi also did not deny that giving coffee milk sachets to babies was also due to the mother's lack of knowledge in meeting the baby's nutritional needs according to the right age.
"Yesterday it was busy, a 7-month-old baby was given coffee milk sachets by his mother, because what was in the shadows here (thoughts) contained milk, the child wanted to be given milk,"
"Be careful about this, therefore once again what is called counseling is important, because indeed the mother said it was useful, this sachet of coffee milk is because there is milk," Jokowi continued.
As information, some time ago a viral video on social media showed a mother giving her child who was still a baby a pack of coffee sachets. This mother's action on TikTok has drawn various criticisms from netizens and health experts.
In the video, the mother also wrote the caption, "Baby drinking coffee God*dd*y has milk instead of being given milk Fri*ian Fl*g said he didn't have milk. Yesterday the babies had chapters 10 times a day, thank God since drinking milk, coffee now he chapters 9x a day "wrote the mother.
According to him, this coffee is also better than sweetened condensed milk, which he said has no milk content. Meanwhile, the coffee that the baby drank, according to him, contained milk.
In another video, the mother tells that her baby has been mixing breast milk and formula since he was half a month old. Unfortunately, he said, formula milk for babies 0-6 months is hard to find in his area.
So when he was 4 months old, his baby drank sachets of sweetened condensed milk that he bought at a shop, at a price of IDR 8,000 per plan.
"I want to tell you, this baby from the age of 1/2 months drinks breast milk assisted by SGM milk because the milk is not smooth. At the age of 4 months, given Fr *** n F ** g (sweetened condensed milk) 1 hanging is 6 sachets the price of 8 thousand can be 1 day 1 night," he wrote.
Since then, said the mother, her baby never drank formula milk again until now he is 7 months old.