Suara.com – Iwan Budianto's name appears on the list of potential candidates for deputy chairman of PSSI for the 2023-2027 period, even though he is no longer willing to run again. Then, how could it happen?
Chairman of the Election Committee (KP) Amir Burhanuddin explained that there was no prohibition for any PSSI member to submit names to be nominated as long as they met the requirements. Because, later KP will carry out the verification process.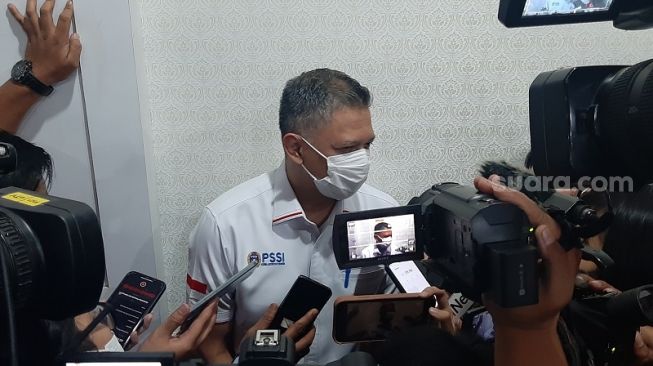 Deputy Chairman of PSSI, Iwan Budianto at the Kemenpora Building, Jakarta. (Suara.com / Adie Prasetyo Nugraha)
Meanwhile, Iwan Budianto is still on the list of potential candidates. If indeed he no longer wants to run, of course the verification process will not pass at the KP level.
"These names make it possible for those concerned to be unwilling, but still to be nominated. That's why we will announce them first," said Amir in a press conference at the GBK Arena, Jakarta, Monday (16/1/2023).
Also Read: List of Names of PSSI Chairperson and Deputy Chairperson, From Erick Tohir to Menpora Zainudin Amali
"Later we will verify it with the support of other supporting documents. These are still prospective candidates," he explained.
Not only Iwan Budianto, KP will verify all incoming names. This includes if there are members of the KP and the Election Appeals Committee (KBP) registered.
"Once again, this is raw data. It will be verified by the KP later. From this data it is possible that names who are no longer allowed to be nominated or feel they are not nominated but are instead nominated members," he explained.
"That will be carried out at the verification stage which will be announced as a temporary list of candidates," he concluded.
As is known, Iwan Budianto currently occupies the position of Deputy Chairperson of PSSI during the Mochamad Iriawan era. It was previously reported that the Arema FC official did not want to run.
Also Read: Entering the List of Candidates for the Waketum of PSSI, Menpora Registers Through His Staff