Apple has announced in a press release that iOS 16.3 will arrive "next week". Although we do not know the specific day, we do know that the new version of the operating system It is just around the corner. Now, unlike other updates, this one will make a significant leap in terms of security.
The Cupertino company will make available to iPhone users, as well as iPad and Mac users, two-step authentication (2FA) with security keys, iMessage contact password verification and advanced iCloud protection through end-to-end encryption.
Security keys, an extra layer to protect your data
We live in a world where having a "strong" password is not enough. To improve the protection of our digital systems, it is advisable to use the two step authentication, which provides an additional layer of security. This mechanism has several methods, including security keys.
However, when signing in to services with our Apple ID, we did not have the possibility of using security keys. This limitation ends with the arrival of iOS 16.3. We will be able to use these physical devices in the 2FA mechanism, substantially improving the security of our account.
How is this possible? We know that he2FA mechanisms are not perfect and there are certain methods that cybercriminals can use to get hold of the code needed to log in. In this way, unless they have our physical key they will not be able to achieve their objective.
iMessage contacts, now with password verification
Another of the security innovations that iOS 16.3 will bring is the verification of iMessage contact passwords. Incoming and outgoing messages from Apple's messaging app are protected by end-to-end encryption, however, some advanced attacks could compromise security.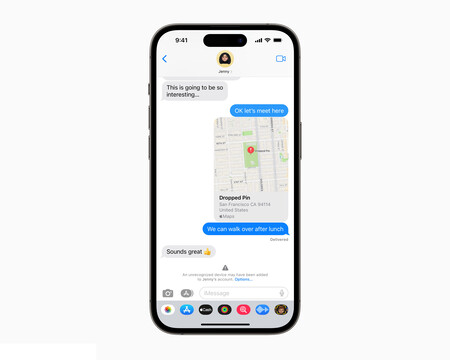 With key verification, users will receive an alert notification if an attacker has managed to infiltrate systems and added your own device to access encrypted communications. In addition, like WhatsApp has long offered, users will be able to compare keys in person.
Advanced data protection with end-to-end encryption
When they mention "end-to-end encryption" we can come to think that all our data is protected, however, this is not always the case. Apple applies this security feature in iCloud, but not all information passing through its servers is encrypted (details of what is encrypted and what is not can be verified on Apple's support page).
This weak link of the company allowed that, on certain occasions, law enforcement agencies could access the content of the users that they needed for their investigations and, consequently, increased the risk of attacks. Apple says that will protect 23 of the 27 categories of data.
Starting with iOS 16.2, iPadOS 16.2, and macOS 13.1, users in the United States next week, and in other countries starting next year, will be able to turn on an option to enable end-to-end encryption in iCloud Backup and Messages, iCloud Drive, Notes, Photos, Reminders, Voicemail, Safari Bookmarks, Siri Shortcuts, and Wallet Swipes.
It should be noted that some categories will not receive end-to-end encryption. Is about Mail, Contacts and Calendar. This, according to the company, is because these apps must interoperate with other systems and that this security measure would prevent their operation.
Images: Apple | securitystbk
In Xataka Basics: How to update iOS to its latest version