Guerrilla Games confirmed the multiplayer project of the Horizon saga last year.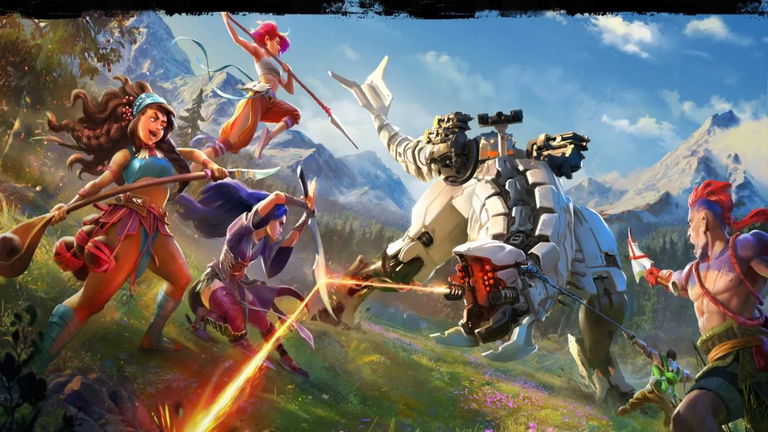 Leaked art from the Horizon saga multiplayer project
join the conversation
After Horizon: Zero Dawn and its sequel Horizon: Forbidden Westthe saga starring Alloy has managed to establish itself as one more of PlayStation Studios to the point of expanding not only with DLCs, but also with Horizon: Call of the Mountain, the first PS VR2 exclusive, although there are also more projects in development. In fact, today material from the Guerrilla Games multiplayer project has been leaked.
It was late last year when three future Horizon games were announced, one of them being multiplayer. Now, an art of the game reveals its graphic style similar to Monster Hunter and Fortnite with more colorful maps than those seen in released games and more cartoon-style characters, each of them carrying a type of weapon, but with the same mission: to shoot down a Thunderjaw.
In addition to the game art, I also A first gameplay of a very early version of this Horizon multiplayer project has been leaked back in the summer of 2020. However, we can see the loading screen and the exploration of the game world, which is reminiscent of Horizon: Zero Dawn but also Fortnite. As for the game interface, it is more in line with the Alloy games.
Although we also see combat, it should be noted that two and a half years have passed since the capture of this leaked material, so the project could have changed a lot since then. In fact, just a month ago there were job offers for the title, which still has development time left. "Guerrilla is looking for a World Lead Designer for bring the sprawling Horizon universe to a multiplayer audience", we could read on the study website.
"Guerrilla is seeking an experienced and passionate Senior Combat Designer to help create a variety of machine enemies that are spectacular, challenging and memorable to fight cooperatively," they explained.
Horizon's future
Beyond the expansion for Horizon: Forbidden West and the PlayStation VR2 game, Guerrilla is already working on new "solo adventures" with Aloy, an online game featuring a new cast of characters and a "unique stylized look" and a new "external project" about which not much is known yet. For now, we will have to see what the final aspect of this multiplayer project is.
join the conversation